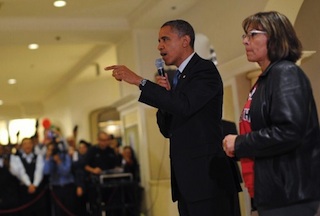 President Barack Obama and Republican challenger Mitt Romney remained in a virtual tie in the latest opinion poll released Sunday, just two days before the White House election.
The survey by the Wall Street Journal and NBC News gave Obama 48 percent support and Romney 47 percent — a statistical dead heat, given the survey's margin of error of plus or minus 2.55 percentage points.
"This poll is reflecting a very, very close campaign nationally," Republican pollster Bill McInturff, who conducted this survey with Democratic pollster Peter Hart, said in a statement.
"It's a dead heat," Hart added. "This election is going to be decided by turnout, turnout, turnout."
The poll, conducted between November 1-3, sampled 1,475 likely voters. The findings were in keeping with most national polls which find the presidential contest too close to call.
Most polls, however, give Obama a slight but significant lead in most of the crucial battleground states that ultimately will determine the outcome of the presidential, and therefore give the Democratic incumbent favorable odds of re-election.

Load more