Former captain of the Nigerian national team, Nwankwo Kanu has revealed that he will never become a coach.
Reports in some sections of the local media had reported recently that Kanu is looking to be a part of the backroom staff of the Nigerian national team but Kanu says becoming a coach is the last thing on his mind.
"I don't want to be a coach. I don't want be a member of the coaching crew," Kanu said.
The former AFC Ajax forward however revealed that he would want a "special designation" at the Super Eagles.
"I want a position (in the Super Eagles) that would ensure that whatever we say, whatever we contribute will be used. It's not just about contributing and what we bring to the table is not used," he said.
Kanu, who also played professionally at Internazionale, Arsenal, West Bromwich Albion and Portsmouth said he expects the Nigeria Football Federation (NFF) to create such a position in the team if the fortune of the national side is to improve.
"Whenever that space is being created for us, then I believe football will keep growing," he said.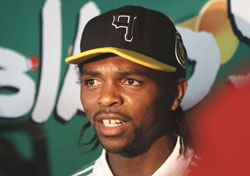 Kanu made his international debut in 1994 for the Super Eagles and scored 13 goals in 87 appearances

Load more