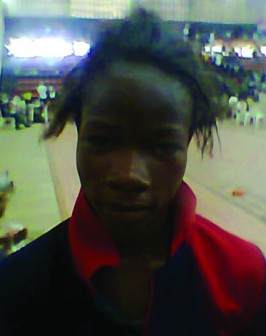 Mutiat Adebayo won a gold medal for Lagos State in the female boxing event at the just-concluded 18th National Sports Festival, tagged 'Eko 2012'. In this interview with BIMBO AJAYI, the 51kg Flyweight champion spoke about her experience at the games and other issues 
How do you feel winning a gold medal at the National Sports Festival?
It in indeed a great moment in my life winning a gold medal at the sports festival. I am happy that I was able to give a good account of myself at the games. And I am very grateful to my coaches and the Lagos State government for investing in me. Above all, I am happy that I did not disappoint my family and fans at the end of the games. In fact, it is not an understatement if I say that I am having the time of my life at the moment.
How did you feel when the judges initially gave the fight to your opponent in the semi-final?
I was so sad when I saw the referee raised the hand of my opponent when I had expected him to declare me as the winner. In fact, I was so scared because I thought that was the end of my dream to win a gold medal at the games. But I am grateful to the Lagos Amateur Boxing Association for lodging a protest immediately which prompted the judges to review the film. And I am very grateful to the independent jury for reversing the decision of the judges when they discovered that it was the referee that made a mistake.
Are you now fulfilled in your career for winning a gold medal at the games?
I am still far from being fulfilled in my career because I still have a lot of ground to cover. In fact, I have not even started as far as I am concerned. And I will want to use this medium to tell my fans that they have not seen anything yet. What they saw in those two sports festival was just the tip of the iceberg. They should be ready to see more from me because I will not rest on my oars.
Why did you stick with Lagos when some of your colleagues left for other states because of the incentives that were offered by those states?
What many people don't understand about me is that I am not into sports because of the money. It is true that one must have enough money to live a comfortable life, but I don't hinge my doing sports to money. I have a very great family and my parents are taking proper care of me. There is time for everything and I know that money will come at the proper time. Concerning those athletes that went to other states, I believe they must their reasons for doing that. And I don't see any reason why I should judge them when I don't know why they took that decision.
Don't you intend to go professional now that you have made a mark for yourself in the amateur level?
I am a kind of person that likes to take things one after the other. Of course, my dream is to become a world champion in the near future. Yet, I want to be careful the way I go about it so that I don't run into problem along the way. My dream is to go professional someday and nothing shall stop the dream. But I don't see any reason why I should be rash about it because the move may be counter-productive if I am not careful about it.
Why do professional boxers like to leave the shores of the country to pursue their careers?
Actually, I don't blame any boxer that leaves the shores of the country in furtherance of his or her career. The reason is that we don't have standard and modern training equipment in the country. And without these equipment at the boxer's disposal, the boxer may not go far in his or her career. So I don't see any reason why they cannot go abroad if it has to do with their careers.
What is your take about boxing in Nigeria?
I think I have every reason to believe that boxing is growing in Nigeria. Though these are trying times for the sport in the country considering our performance at the London Olympics, but I believe that the sport is growing in Nigeria. As I said earlier, what the authorities should do is to provide necessary training equipment in the country so that Nigerian boxers can rub shoulders with their counterparts in other countries.

Load more