The biggest match of the UEFA Champions League so far holds tonight when English giants, Manchester United take on Spanish champions, Real Madrid at the Old Trafford, London.
The two sides shared a 1-1 draw in their first leg at the Bernabeu Stadium in Spain, and in the next few hours, they will take the field at Old Trafford knowing that their future in the competition is on the line.
Madrid have scored several huge wins since that first leg against United —beating rivals, Barcelona twice in the space of a week. They defeated them 3-1 in the Copa del Rey semifinals —at Camp Nou— and then scored a 2-1 win in La Liga at the weekend to give them a huge confidence boost heading into their biggest match of the European season so far this year.
Alex Ferguson's men too have been in blistering form of late, having continued their dominance in the English Premier League since the opening leg against Madrid. The Red Devils have conceded just two goals in their past eight domestic matches and are undefeated in their last 18 matches across all competition—giving them plenty of confidence going into the cracker.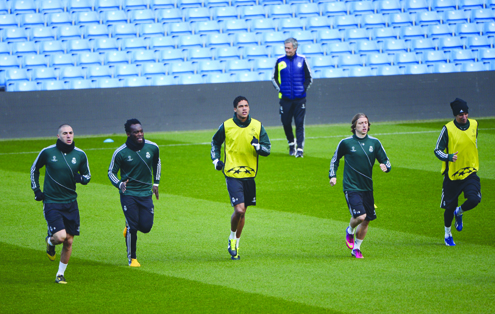 With a plethora of big-name players and attacking firepower, this round of 16 match is shaping as one of the more memorable matches this season and the world is waiting.
Ferguson is predicting goals in a contest that counterpart José Mourinho expects the world to savour. "It doesn't get any bigger than this," were the rousing words of Man. United's manager, Ferguson, who is certain tonight's tie will live up to its heavyweight billing. The stage is set for Cristiano Ronaldo's long-awaited Old Trafford return, but Ferguson insisted "we can't fear what Ronaldo can do to us" and Mourinho, too, stressed that this fixture stands alone. He expects the world to sit up and take notice of a contest fit to grace this season's Wembley showpiece.
"Two big clubs, two great histories, it's set up to be a marvellous game; and I don't think it'll disappoint. Whenever you prepare for an important game you have to respect the strengths of the other team, we do that with every team we play – how they set up, tactics, key players. The same applies here. We're very experienced and we know our own strengths, so we need to focus on those," Ferguson said.
"I expect United to be very defensive when we have the ball, and to attack strongly when they have it. Even though we're behind in the tie and have to attack, we'll also have to defend stoutly. If I lose this match I won't cry, if I win I won't run 100 metres to celebrate, but the feelings will still be the same," said Mourinho.

Load more