The Peoples Democratic Party (PDP) says it is not involved in the formation of any other political organisation with the acronym APC as being speculated by some politicians.
National Publicity Secretary of the party Olisa Metuh made this known in a statement on Saturday in Abuja.
"Our attention has been drawn to unfounded and vexatious reports claiming that the PDP is behind the identity tug of war by groups claiming the acronym APC.
"The reports have suggested that agents of our party are involved in the formation of the African Peoples Congress (APC) to frustrate the merger of opposition parties under the canopy of the All Progressives Congress.'' Metuh said
He decried the dimension the report had assumed, especially within a section of the online media.
He further said that contrary to allegations, the PDP e-mail address had never been made available to any external body for the purpose of disseminating information.
"For emphasis, the PDP did not at any time use its e-mail address to circulate the so called APC's press statement of 15th March 2013."
Metuh, however, said the PDP usually circulated its statements to a wide network of e-mail contacts and had no control over who chose to make use of them.
"The fact, however, is that the e-mail in question did not originate from our domain."
He reiterated that PDP welcomed a strong and virile opposition and could not be threatened by the emergence of any group.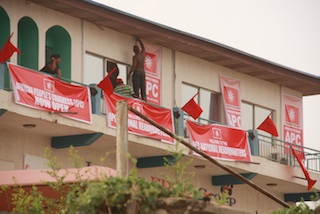 Metuh added that the party had no cause to frustrate any alliance as it had always defeated such coalitions in the recent past. He said PDP would remain focused on strengthening its bond with Nigerians.
Metuh's denial however ran counter to his earlier endorsement of the cloned party, as reported by various newspapers.
It also ran counter to the statement of the lawyer, Nwokorie Samuel Chinedu who was paid N80,000, about $500, in two instalments by a PDP youth leader, to inform the Independent National Electoral Commission, INEC about the intention of the controversial African Peoples Congress (APC), to seek registration.
Nwokorie, told TheNation newspaper that he was hired by Ugochinyere Ikenga sometime in February to file the application – an action which has introduced a discomforting twist to the fusion of the Action Congress of Nigeria (ACN), All Nigeria Peoples Party (ANPP) and Congres for Progressive Change (CPC), into a new party, the All Progressives Party (APC).