Abiodun Onafuye/Abeokuta
Governor Ibikunle Amosun of the western Nigerian state of Ogun State, has inaugurated Oba Sikiru Kayode Adetona, the Awujale and Paramount ruler of Ijebuland as the new Chairman of the Ogun State Council of Obas.
The ceremony took place Tuesday at the Conference Hall, Oba Complex, Oke Mosan, Abeokuta, the Ogun State capital.
During the event he declared his administration's determination to reposition all institutions of governance for effective and efficient discharge of their duties.
"Our administration has started a review of all laws and policies with a view to re-aligning their relevant provisions to meet the challenges of modern day governance in a rapidly changing technological age," Amosun noted.
He charged the Awujale to use his wealth of experience to resolve all pending chieftaincy issues and other matters as enshrined in the enabling laws.
The governor stated that he has given approval for the creation of a website for the traditional rulers in the state to enable their subjects within and outside the country have access to information relating to their culture and economic potential of their communities.
In his response, the new Chairman of the state Council of Obas, Oba Awujale expressed gratitude to the present administration and promised continuous support from all the royal fathers in the state.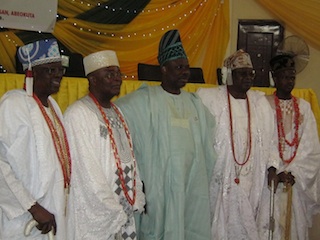 According to the monarch, "we know as the custodians of the culture and our tradition, that our duty is to give necessary and useful advice to the government and as well sensitise our subjects on their expected roles in the area of development and supporting the government.
"All these, we will continue to do and I am using this opportunity to appeal to the governor to assist in looking critically
into the welfare of the traditional rulers as we are all ready to support the government in its mission to rebuild the state."
Speaking earlier, the erstwhile Chairman of the Council, Oba Michael Adedotun Aremu Gbadebo, Alake and Paramount ruler of Egbaland, thanked all the monarchs for the support given to him in the last 365 days in office, and solicited the same gesture for his successor.
The Ogun State Council of Obas comprises all the traditional rulers in the state and the leadership is rotated among the four paramount rulers in the state.