Maria Sharapova powered her way past another opponent at the Sony Open in Miami on Monday as the Russian world No 2 remains on target to finally claim a tournament that has brought her plenty of heartbreak.
The third seed shrugged off the challenge of Klara Zakopalova, easing to a 6-2 6-2 victory over the Czech to advance to the quarterfinals and inch closer making it fifth time lucky in Florida.
Sharapova was beaten in the last two finals after also falling in the tournament decider in 2005 and 2006, and her determination to go one better this year was evident against Zakopalova, who was helpless in the face of the Russian's power.
Earlier, top seed Serena Williams stared defeat in the face before mounting an exciting comeback to overcome Slovakia's Dominika Cibulkova.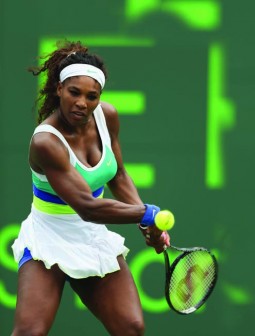 Williams trailed by a set and 4-1 before she reeled off the next five games and ultimately took the match 2-6 6-4 6-2.
"This particular time I just thought to myself, 'I've been down worse. It's nothing new. Just keep fighting,'" Williams told reporters.
"I never give up. It doesn't matter whether it's in life or on the tennis court, I keep fighting. That's what I kept doing today."
Williams closed out the contest with her 14th ace in a battle that lasted a little less than two hours. The American is bidding to become the tournament's first six-time winner, and claim her first title here since 2008.
For Cibulkova, it was another missed opportunity. Last year, she had then top-ranked Victoria Azarenka down 6-1 5-2 but could not finish the job.