Kelechi Iheanacho, Golden Eaglets' match ball winner following a hat trick in the 7-0 win over Congo Brazzaville on Saturday, has dedicated all his four goals at the CAF Under-17 to his late mother.
Kelechi described his mother, Mrs. Mercy Iheanacho who died after a brief illness last February at the Enukuku General Hospital near Owerri in Imo State, as unforgettable.
"I remember my mother today and I wished she is alive to witness this; may God grant her good rest," stated the player who graduated through the NFF Under-13 and Under-15 teams.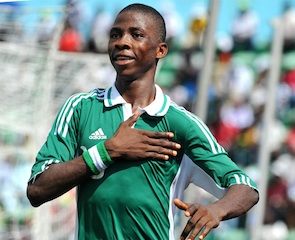 "Of course, I'm very happy that we have qualified for the World Cup because that was the most important thing for us."
Kelechi opened his U-17 tournament in the Golden Eaglets' 6-1 battering of Black Starlets and added a hat trick Saturday against Congo. He has established himself at one the team's ruthless strikes and is still leading the pack with 25 goals as compared with Isaac Success who has scored 24- all in both friendly and competitive matches.
"There is no rivalry between Success and I or any other member of the team,' he stated.
"It is a collective effort because we don't count the number of goals we have. When we win, we win as a team and nobody is looking for any personal glory.
"We would continue to assist ourselves until we achieve our objective of winning the 2013 CAF Under-17 trophy," he said.

Load more