Nigeria's President Goodluck Jonathan on Friday held emergency talks with his security chiefs on a recent spate of deadly violence in the country which has left some 350 dead in less than a month, in mostly religious clashes.
"It is an emergency security meeting at the instance of Mr President… because of insecurity and loss of lives," Police Affairs Minister Caleb Olubolade told journalists.
In the most recent case on Tuesday, gunmen from Ombatse, a shadowy cult, ambushed a group of police officers in central Nigeria state of Nasarawa, killing 30 of them and setting fire to their bodies. Seventeen policemen are still missing, state police said.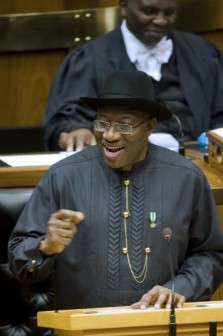 The previous day 55 people were killed in the northeastern town of Bama when Boko Haram Islamists attacked the northeastern town.
In another case of religious violence, a group of gunmen attacked a church in Kano, killing ten on Sunday, three days after 39 were killed in clashes between Christians and Muslims in central Nigeria's Taraba state.
On April 16 and 17, brutal clashes between soldiers and insurgents in northeastern fishing town of Baga left nearly 200 dead in the deadliest-ever episode in the Boko Haram insurgency, which has cost 3,600 lives since 2009, including killings by the security forces.
Olubolade said Jonathan called the meeting with heads of the army, air force and navy, to find find ways to end the blood-letting.
"He (Jonathan) is looking at how we can put an end to all these troubles we are having," he said as he left the meeting venue.
Following the violence this week, Jonathan cut short an African tour "to personally oversee efforts… to contain the fresh challenges to national security," an official statement said.
On Thursday, he called off a trip to Namibia, where he planned to travel after his state visit to neighbouring South Africa.
In view of the recent wave of deadly attacks in central and northern Nigeria, Olubolade said what was "important now is to re-strategise."

Load more