Two Britons of Nigerian origin have been arrested in connection with the brutal murder yesterday of a serving soldier in Woolwich, London. Media reports said today that the suspects however may not have links to Nigerian militant groups such as Islamist movement Boko Haram.
One of the two Nigerians, the one wielding bloodied knives before the camera, has been identified as Michael Adebolajo, son of devout Christian parents, who converted to Islam about 10 years ago. He is 28 years old.
"He converted around 2003 to Islam, before I met him and I knew him as his convert name Mujaheed when he used to attend our demonstrations and lectures," claimed London cleric Anjem Choudary, according to Metro UK.
Choudary, himself a controversial imam in Britain and outspoken critic of the wars in Iraq and Afghanistan, called Adebolajo a "quiet" and "pleasant lad," a report by Daily News said.
The self-proclaimed jihadi may have been a student at London's University of Greenwich and lived in the area around 2004 and 2005. A spokeswoman for the school wouldn't confirm Thursday whether he attended classes, said
Adebolajo is allegedly seen in a cellphone video clutching a bloodied knife and ranting just moments after the soldier was viciously slaughtered and beheaded Wednesday afternoon "like a piece of meat," witnesses said.
Britain's national security chiefs met on Thursday as counter-terrorism police investigated the murder of the soldier who was hacked to death in a London street by the suspects, believed to be Islamist extremists.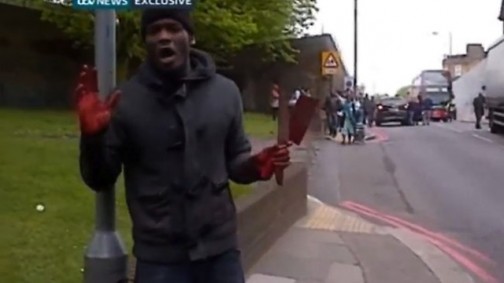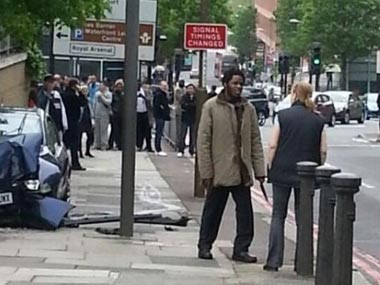 The suspects were shot by police after the gruesome attack and spent the night in separate hospitals under armed guard.
Wielding knives including a meat cleaver, the two men carried out the attack in broad daylight near the Royal Artillery Barracks in Woolwich, southeast London, then delivered an Islamist tirade to passers-by.
The victim has yet to be formally identified, but police confirmed he was a soldier.
Prime Minister David Cameron condemned the "appalling crime", adding: "There are strong indications that it is a terrorist incident."
He cut short a visit to Paris Wednesday to fly back for a meeting of the government's emergency response committee, COBRA, which had already met in the hours following the attack.
The head of MI5, the domestic intelligence agency, attended Thursday's meeting along with the defence and interior ministers, the head of Scotland Yard and London mayor Boris Johnson.
"There was an operational update from the police and agencies into the ongoing investigation and an update from the MOD (Ministry of Defence) on protective security," Downing Street said after the meeting, shortly ahead of a statement by Cameron to the media.
The British flag was lowered over the Woolwich barracks — which was the venue for shooting events at the London 2012 Olympics — and flowers have been laid outside.
Lines of police were conducting searches near the murder scene early Thursday.
Chilling amateur footage of one of the suspects shows him with bloody hands and still holding a blood-stained knife and meat-cleaver, telling a member of the public: "You people will never be safe."
"We swear by almighty Allah we will never stop fighting you," adds the man, who is black and speaks in a London accent.
He went on to make various political statements in the video, including a demand for Cameron to "bring our troops back".
Shocked eyewitnesses described how after the killing, at around 2:20 p.m (1320 GMT) on Wednesday, the men stayed at the scene asking passers-by to photograph and film them.
"I apologise that women have had to witness this today, but in our lands our women have to see the same," said the suspect, who was wearing a hooded jacket and a black woolly hat.
"We must fight them as they fight us. An eye for an eye, a tooth for a tooth."
Media reports citing witnesses said the men first ran over their victim in a car before finishing him off with the knives.
Several eyewitnesses said he had been decapitated.
Rapper Boya Dee, who witnessed the incident, wrote on his Twitter account: "Ohhhhh myyyy God!!!! I just see a man with his head chopped off right in front of my eyes!"
Reports said the victim was wearing a t-shirt bearing the logo of the British military charity Help for Heroes.
A female scout leader has shot to fame after she confronted the assailants shortly after the attack, telling them: "It is only you versus many people. You are going to lose."
Ingrid Loyau-Kennett, 48, told the Daily Telegraph that when she asked one of the suspects why they had carried out the attack, he said: "We want to start a war in London tonight."
She told the newspaper: "He was not high, he was not on drugs, he was not an alcoholic or drunk.
"He was in full control of his decisions."
Late Wednesday around 250 members of the anti-Islamist English Defence League were involved in minor scuffles with police at Woolwich Arsenal train station, near the scene of the attack.
Two men were arrested overnight after separate attacks on mosques in southeast England.
Security has been strengthened at all army barracks in London.
The Muslim Council of Britain described the attack as "a truly barbaric act that has no basis in Islam".
London's mayor Boris Johnson said it would be "completely wrong to blame this killing on the religion of Islam".
And he said he would be "equally wrong" to link the murder to British military interventions in Iraq and Afghanistan.
"The fault lies wholly and exclusively in the warped and deluded mindset of the people who did it," he said.
The United States condemned the attack. "We stand with our UK allies in the face of such senseless violence," said State Department spokesman Patrick Ventrell.
.Updated with the information on the identity of one of the assailants

Load more