Borussia Dortmund striker Robert Lewandowski was on the losing side in the Champions League final but the Poland star is set to leave next month — possibly to European champions Bayern Munich.
The 24-year-old's Dortmund contract expires in June 2014 but it looks increasingly doubtful he will see his deal out and his advisor Maik Barthel has said Lewandowski will leave in June.
His four goals in the 4-1 semi-final, first-leg win at home to Real Madrid underlined both his lethal finishing and his status as a target for Europe's top clubs.
He had his chances in Saturday's Wembley final before Dutch winger Arjen Robben's 89th-minute match-winner gave Bayern their fifth European title after losing both the 2010 and 2012 European finals.
With 14 minutes gone, Lewandowski forced Bayern goalkeeper Manuel Neuer to tip the ball over the bar with a shot from 25-yards, then on 34 minutes he slipped his marker, but got his shot away too late.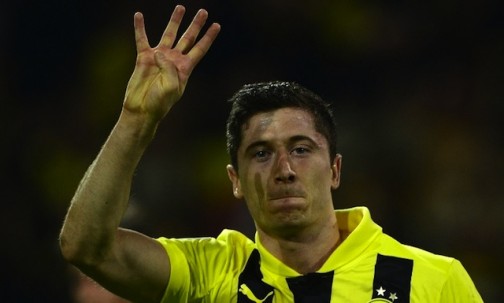 Interestingly, it was defensive midfielder Ilkay Gundogan who fired home the 68th-miute penalty, rather than regular spot-kick taker Lewandowski, which put Dortmund level before Robben struck.
But Lewandowski's future at Borussia is far from clear after Barthel told Sport Bild last month there is "an agreement with a club" with the Poland star also linked to Manchester United and Chelsea.
Lewandowski's manager Cezary Kucharski has told Polish television that the forward will soon "play at a bigger club", but Bayern have denied there is any deal in place, despite numerous reports to the contrary.
Curiously, both Kucharski and Barthel are reported to have been invited to Bayern's post-final celebration party in London.
With Dortmund star midfielder Mario Goetze, who missed the final with a hamstring injury, joining Bayern, the Bavarian giants will rip the heart out of Dortmund's attack if Lewandowski joins them too.
While Goetze's Dortmund contract had a release clause, allowing him to leave for 37 million euros ($48.2 million, £32 million), Lewandowski's contract has no such condition.
In the event of his departure, Dortmund will have their work cut out to find a replacement, but Borussia are reported to be in talks with Porto's Colombia striker Jackson Martinez.
Lewandowski's haul this season includes 24 goals in 34 Bundesliga games, including a run of 12 goals in 12 games, setting a new club record, and he scored 10 goals in the Champions League.
A footballing nomad, Lewandowski has already played for five clubs, working his way up from Polish fifth-tier side Delta Warsaw in 2004.
He proved his goal-scoring mettle at first division Lech Poznan in 2008-09 with a table-topping 20 goals, then 18 in 2009-2010 as Lech won their first title in 17 years.
In June 2010 he signed a four-year deal with Dortmund for a Polish record fee of 4.5 million euros.
After a first season in the shadow of Paraguay's Lucas Barrios, he took his chance when injury ruled the latter out and the nickname "Lewangoalski" was born.

Load more