Part of the roof of a brand new stadium that will be used for the upcoming Confederations Cup collapsed in the northeastern Brazilian city of Salvador Monday following heavy rains.
Officials said no injuries were reported and only the eastern sector of Arena Fonte Nova which will also host World Cup games next year was damaged.
"Following heavy downpours on Salvador early Monday, water accumulated in the 36 panels of the roof's (plastic) membrane located in the eastern sector, triggering its collapse," Fonte Nova Participacoes, the agency that manages the stadium, said in a statement.
It added that equipment damaged in the collapse was being tested to determine the cause of the mishap and its impact on the roof structure as well as assess what repairs are needed.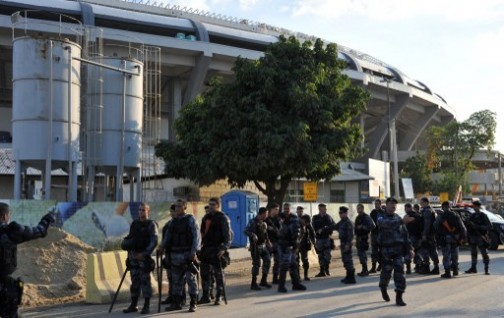 Arena Fonte Nova, rebuilt by the OAS and Odebrecht consortium at a cost of nearly $345 million, was inaugurated in early April by President Dilma Rousseff.
It is one of six stadiums to be used for the June 15-30 Confederations Cup, a dry run for next year's World Cup.
Monday's incident occurred just as Rousseff used her weekly radio address to hail the completion of the first six stadiums for the World Cup.
"I am sure that Brazil will shine off and on the field," Rousseff said.
She said she was particularly impressed by the six stadiums already built for the Confederations Cup: Rio's iconic Maracana arena, Brasilia's Mane Garrincha, Recife's Arena Pernambuco de Recife, Fortaleza's Castelao, Salvador's Fonte Nova and Belo Horizonte's Mineirao.
Brazil, Japan, Mexico, Italy, Spain, Uruguay, Tahiti and Nigeria will compete in next month's soccer tournament.
On June 20, Arena Fonte Nova will host a Nigeria-Uruguay game, followed by a Italy-Brazil clash on June 22 and the match for Confederations Cup's third place on June 30.

Load more