The Assets Management Corporation of Nigeria (AMCON) on Tuesday commenced contempt proceedings against a former Delta governorship aspirant, Great Ogboru, before a Federal High Court in Lagos.
Counsel to AMCON Mr Kunle Ogunba filed the contempt charge against Ogboru for flouting a subsisting order of court made by Justice Okon Abang,
The order made on Jan. 13, had appointed a receiver manager for Fiogret Ltd, a company owned by the defendant, which is subject of a loan transaction with Equatorial Trust Bank (now Sterling Bank).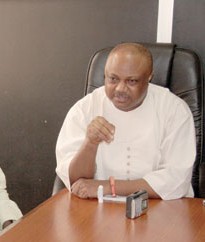 Ogunba had argued that the defendant used the company as collateral to secure N33 million from the bank, for the importation of fish.
He said that the defendant had, however, been unwilling to liquidate the debt, in spite of repeated letters of demand, which led AMCON to take over the company.
NAN recalls that AMCON then filed an application before the court in January, seeking to appoint its counsel, Ogunba as receiver manager for the acquired company.
Abang had then made the order appointing Ogunba as receiver manager of the company.
AMCON, in the contempt charge, alleged that after Ogunba had taken possession of the property, the defendant employed thugs to invade the premises, carting away several truck loads of fish.
In a supporting affidavit, AMCON alleged that Ogboru also threatened to deal with the receiver/manager for executing the orders of court.
AMCON, therefore, seeks an order, declaring the acts of thuggery and hooliganism on the part of the defendant as contempt of the court.
Abang adjourned the case till May 30 for bench ruling.
AMCON had joined directors of Fiogret Ltd, as defendants. They include Turner Ogboru, Victor Agbenrien, Muibi Sunmonu, Mike Ladesuyi, Roland Ogboru and Raphael Uwhumakpor.

Load more