JETHRO IBILEKE/Benin

A Nigerian Prisons Inspector, Peter Okhanugo, has allegedly facilitated the escape of an inmate of the Federal Medium Security Prisons, Ogwashi-Uku, Delta state, last Saturday.
The inmate, Kelvin Isaiah-Oghenemanu, a native of Ozoro, who was remanded for alleged kidnapping and car snatching, had spent four years in prison custody awaiting trial.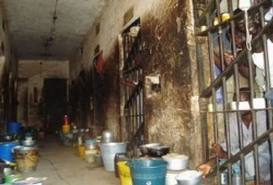 The Assistant Comptroller-General of Prisons in Charge of Zone G, (Delta, Edo, Anambra, Enugu, Eboyi Prisons), Mr. Joseph Komolafe, revealed this to journalists in Benin City, capital of Edo state.
According to Mr. Komolafe, the renegade prisons inspector who connived with another prisons patrol officer, James Ugen, who was on duty on the fateful day, deliberately opened the cell for Isaiah-Oghenemanu to make his escape from the facility.
He further disclosed that Ugen, the prisons patrol officer and Isaiah-Ogenemanu were into trafficking of cannabis sativa and ogogoro (illicit gin) into the prison yard.
The said James Ugen who allegedly bought a Gulf 3 car with the proceeds from their illicit business transactions behind bars, gave the car to Isaiah-Ogenemanu with which he allegedly escaped to Cameroon.
A prisons source who did not want his name in print, told journalists that the escapee inmate lived extravagant life in prison custody, which was made easy for him by his colaborators.
"Kelvin had a laptop and DSTV which James bought for him. He was also permitted to use cell phone at will, which was against the rules and regulations of the prisons system," the source said.
The Deputy Comptroller General of Prisipons who said preliminary investigations into the matter has begun, added that the Prisons high command in Abuja has been briefed, while all officers on duty on the day the incident occured had been replaced.

Load more