Bayern Munich, with three silverwares in their possession have won another title: being the most valuable brand in the world of soccer.
In a report done yearly by British brand analysts, BrandFinance, the Bavarian giants edged out Manchester United to take over the title.
The report values Bayern at $860 million, a 9 per cent jump from last year's $786 million.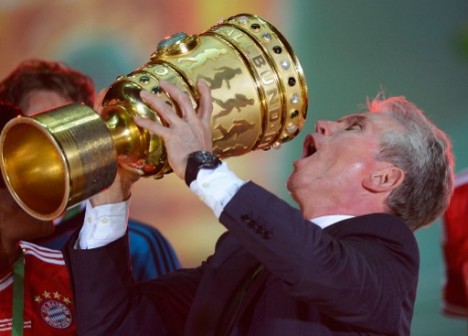 Manchester United, which won only the Barclays Premiership League and failed to shine in Europe dropped 2 per cent to $837 million, down from last year's $853 million.
Real Madrid, being deserted by Coach Jose Mourinho and trophyless this season are a distant third at $621 million, although they are one of just two clubs along with United to receive an AAA+ brand rating from the report.
Barcelona, the La Liga winners this season are rated fourth and valued at $570million.
Three English club sides, Chelsea, Arsenal and Liverpool occupy the next three positions in the value table.
Chelsea, the Europa League champions are valued the fifth most valuable company, with a brand value of $418m, a 5 per cent improvement over their value in 2012, put then at $398million.
Arsenal, at sixth, were almost cheek and jowl with Chelsea with a value of $410million, also notching an improvement of 6 per cent over their value in 2012, estimated at $388 million.
Liverpool are the seventh most valuable club with a brand value of $361 million, down by two per cent from $367 million .
Manchester City are eight on the brand scale with $332 million . AC Milan are valued $263 million and Borussia Dortmund, that played second fiddle to Bayern this season are rated 10th with a value of $260million.
Read the full report here:http://issuu.com/brandfinance/docs/brandfinance_football_50_2013?e=3802308/2584837


Load more