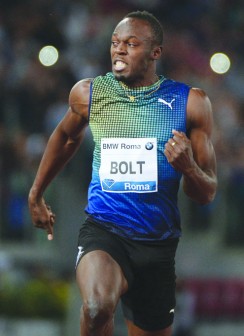 World and Olympic records holder, Usain Bolt has blamed his legs for his 100m defeat against American sprinter Justin Gatlin at the Diamond League race held in Rome Thursday night.
The Jamaican athlete was unable to claim victory in his first Diamond League race of the season as Gatlin, who won the 100m race in the opening Diamond League in Doha and Eugene, edged him out on the line to win the race at the Olympic Stadium in Rome.
Bolt, who has been struggling with injury and whose only previous 100m race this year saw him clock a sluggish 10.09seconds in a victory in the Cayman Islands a month ago, was quickly out of the blocks, but could not push on as Gatlin took the win in 9.94secs. The Jamaican crossed in 9.95secs with Frenchman Jimmy Vicaut third in 10.02secs.
The six-time Olympic gold medalist told BBC Sports after the race that "I got the perfect start that I wanted, then about five steps in I stumbled a bit and that kind of threw my game off.
"My legs didn't feel like they are coming into the straight. I guess I need to do more strength work. I'm glad that at least I got under 10 seconds."
When asked if he is still motivated to win all the races he competes in, Bolt said: "Honestly, I no longer feel the same motivation like before, but I guess I just have to continue to push myself."
A delighted Gatlin said: "I feels good. I'm not really worried about who's in the race; I just want to get a good race pattern together.
"Usain Bolt is a great competitor and a great champion, so to come out here and have a victory; it just shows it's been a good season so far.
"I just want to be confident and dominant when I run, no matter what the time is.
"It's about the dog fight, it's not about running 9.6, 9.7 at this point in time, it's about putting on a great show for the fans and I think the fans tonight saw we put on a great show."
Former world champion Phillips Idowu, also making his Diamond League debut this year, finished seventh in the triple jump with a season's best 16.44 with Christian Taylor of the United States emerging victorious with 17.08.
—Bamidele Olowosagba

Load more