Ayo Oluokun/Abuja

Fastjet plc (fastjet), Africa's lowcost airline, has signed a Memorandum of Understanding (MoU) with Nigeria's Red1AirwaysLtd(Red 1), to create a low cost airline operating within Nigeria and to destinations across Africa.
The MoU brings together fastjet's strong brand, reputation, management experience and economies of scale and RED1's extensive local market knowledge within Nigeria.
The airline will be branded Fastjet Nigeria.
The capital required for this venture will be the responsibility of Red 1.
Fastjet plc and will have a minority shareholding in fastjet Nigeria.
A commercial arrangement will exist between Red 1 and fastjet for the provision of the fastjet Brand, Operational Framework and Management Services.Fastjet will provide further details on the signing of binding contracts.
Since launching in Tanzania in November 2012, Fastjet has established itself as a provider of safe, reliable and high quality air travel in Africa; Fastjet Nigeria intends to bring this same level of service to Nigeria, the most populated country in Africa with more than 165 million people.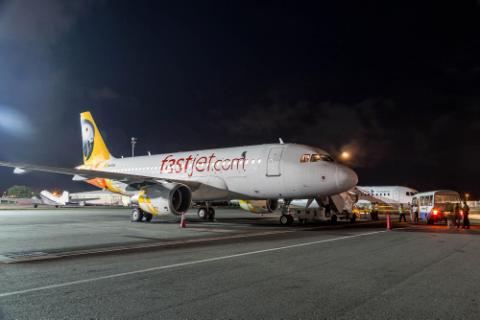 The Fastjet Nigeria management team will be led by Red 1, who will oversee day to day operations, while the Fastjet plc management team will bring its extensive experience and expertise of the low cost airline industry to the partnership.
Operating within Fastjet's growing Pan-African organisation the partnership is planned to provide Fastjet Nigeria with an extensive distribution network.
Commenting on today's news, Fastjet CEO Ed Winter said:"The combination of Fastjet's brand and experience and Red 1's extensive knowledge of the local aviation market and Nigerian business landscape is a perfect foundation for a great airline. The Nigerian people deserve a new airline offering great value and operating to international standards of safety and reliability."
Red 1 CEO Dikko Nwachukwu added:"We are excited to partner with Fastjet and humbled to be working on bringing Nigeria its first true Low Cost Carrier. At Red 1 our motto is "now every1 can fly" and we aim to make air travel affordable so more Nigerians can choose to travel by air. Our experienced management team has spent 10 years fine tuning the business plan and waiting for the right opportunity to meet the increasing demand for affordable air travel in Nigeria. The time has now come to partner with Fastjet and seek to provide Nigeria with a world class low cost carrier."

Load more