Tahiti captain, Marama Vahirua concedes that his team are not in the same class as Nigeria, but warned the African champions to brace for war.
Both sides meet in their opening 2013 FIFA Confederations Cup game at the Estadio Minierao Monday and Vahirua admits it will be a tall task for his side.
"Members of the Nigerian team are very fast and very strong. African football has evolved a lot. Now they are well prepared and a lot play in European leagues, very strong. We have a lot of respect for them and I was proud to play with some Nigerian players and against Nigerian players but it will be war."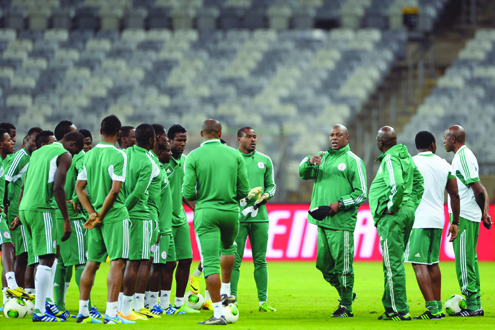 Vahirua stated further: "We have done a lot of groundwork that will be useful. Physically, mentally and technically we have worked hard. I'm not saying we will be at par with Nigeria. But mentally we are ready, we will fight like lions and do everything we can to represent our country."
Vahirua, who plays for Greek club Panathinaikos on loan from French Ligue 1 side, Nancy, is the only professional player in a team of amateurs.
Nine of the squad are unemployed. The rest are made up of delivery boys, truck drivers, Physical Education teachers, accountants, and a mountain climber, "who wakes up everyday at 4.30am and climbs mountains, coconut trees, anything," according to coach Eddy Etaeta.
But Marama says the squad are adapting well to the heady heights of world football.
"It's all new, even to me. But we are head first in it. The difference is timing, playing much faster, punctuality. I'm the only professional player in Tahiti and have tried to bring my experience. But even for me, all of this is new, I have never been to a competition of this level so I will try not to be shy."
Meanwhile, leading telecommunications company, Globacom, has enjoined the Eagles and technical crew to shrug off the challenges they encountered in their build up to the on-going  FIFA Confederation Cup in Brazil and focus on defeating Tahiti.
The Eagles, who are the African representatives at the global competition, missed a scheduled flight to Brazil on Thursday after playing a 1-1 draw with Namibia's Brave Warriors in a World Cup 2014 qualifier.
Glo said it is optimistic that the Eagles will brave the odds and do well against Tahiti.
"We want the team and its technical crew to be motivated by the fact that they are not representing only Nigeria but the entire Africa continent at the Confederation Cup. Therefore, the onus is on them to make Nigeria and Africa proud," said the statement.
Globacom also appealed to Nigerians to pray for the Eagles' success at the competition.
"We call on all Nigerians to support the Eagles so that they can achieve the set target of going all the way in Brazil," the statement concluded.
Globacom is the official telecommunications partner of the Nigeria Football Federation and major sponsor of the Nigeria national teams.

Load more