Funke Ebun, the distraught mother of Timilehin Solomon Ebun, the nine-year old boy who was killed by the police in Lagos, southwest Nigeria, last Thursday night, has said she cannot find words or strength to describe the tragedy that has befallen her family.
"I'm yet to believe that my Timilehin is gone. I still believe that  they will bring him back alive from the hospital," she said on Tuesday.
She has been bedridden since the incident happened.
Mrs. Timilehin Ebun, a senior staff of LASACO Insurance Company in Ogba area of Lagos, was in a Sport Utility Vehicle, SUV, with her husband, 47-year old Olusegun Ebun as well as their children when a police bullet struck her 9-year son in the eye, killing him on the spot.
The family had gone to the Murtala Muhammed International Airport in Ikeja to pick their 17-year old son, Jide who lives in Canada as a student and were heading, along with their daughter, Damilola,  to their family home in Ikorodu when the incident happened at about 9pm at Ketu area of the state.
"We were at Ketu just before Kosofe when the incident happened. A police bullet came from the other side of the road and hit my boy in the eye. They were trying to extort money from a commuter bus driver and shot directly at us," the father of the boy said on Tuesday in their home at Oyebola Street, Church Bus Stop, Ikorodu.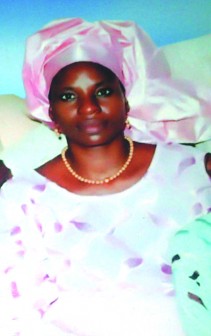 The 9-year old slain boy was a Basic three student at Royal Scholars International School in Ikorodu who loved playing computer games and eating Indomie noodles, his parents said.
He was the bond between them. He did house chores, including washing his parents' car, switching on the generator and other things.
"When there were challenges between us, he was the only one at home. He always brought us together," Mr. Ebun, a finance and investment analyst, said.
Timilehin Ebun was born on 10 April, 2004 at Trailee General Hospital, Co.Kerry, in the Republic of Ireland. Before his birth,  his parents did not want to take any risks, they told our correspondent.
Ebun, the father of the boy, alleged that the killer cop had killed before and was in the habit of killing innocent people but because of his connection with a royal family, he always got scot free.
Sam Damilola Adegbuyi, Deputy Commissioner of Police in charge of State CID who visited the family on Monday promised that justice will be done.
—Simon Ateba

Load more