Okafor Ofiebor/Port Harcourt
The Acting Managing Director/Chief Executive Officer of the Niger Delta Development Commission, (NDDC) Dr (Mrs) Christy Atako has criticised the quality of job being executed at the Eleme Ultra Modern Community Resource Centre project.
She told the contractor that the quality was unacceptable to both the NDDC and its partners.
The resource centre is a joint project between the NDDC, the Eleme Local Government Council and the Grassroot Empowerment Network.
Dr Atako who queried the competence of the contractor said the contractor appears to be executing the job in his own way and style and not according to specification.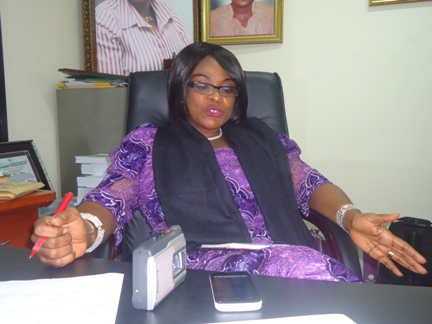 "All the pillars are not straight, I don't think they really took their time to construct them, this is unacceptable."
The NDDC Boss particularly frowned at the absence of the project engineer who would have offered some explanation.
" The engineer is not even here, I suspect he is running away because he knows that we will ask him a lot of questions."
She therefore summoned the contractor for a meeting with all the partners on the project for a way forward.
"We have to look at the project again and be sure that we have the right design and to ensure that the scope of work done by the contractor is in accordance with specification."
Dr Atako however, commended the concept of the project pointing out that it was designed to stimulate development in the community in areas of ICT and other empowerment skills.
Briefing the Acting Managing Director/Chief Executive Officer, the facilitator of the project, Valerie Young-Harry explained that while the project is designed to develop the capacity of youths and women in the areas to be self reliant, it will also be self sustaining.
The resource centre comprises 1,000-seater multi-purpose hall, 300-seater conference hall, 2 no 20-seater ICT training rooms, 20-seater entrepreneurial training room and a 20-seater cyber café, e-library and restaurant.
Other facilities are a 20-room guest house, fish farm, a 6-room staff quarters and sporting centre.

Load more