More Nigerian players on Tuesday crashed out of the ongoing 2013 Lagos Tennis Governor's Cup Championships.
Henry Atseye lost in two straight sets of 6-1, 6- 0 to India's Jeevan Nedunchezhiyan, in the men's singles.
Speaking after the match, Atseye said; "I was a little stressed up; I know I did not play my best, but I will certainly do better in my doubles".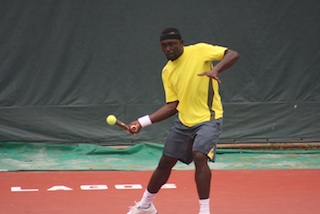 Atseye is the sixth Nigerian male player to be ousted from the tournament after the exit of John Otu, Lawal Shehu, Edward Christopher-Anefu, Abdulmalik Kabiru and Samuel Omoile.
His ouster now leaves only two Nigerian players, Christian Paul and Emmanuel Ikakah, in the male singles of the tournament.
Nedunchezhiyan, ranked 315 by the International Tennis Federation (ITF) and the number three male player of the tournament, showed his determination to win the game.
Two more Nigerian male players in the Futures I tournament, failed in their bid to progress as they also crashed out.
Unranked Bolaji Olawepo fell to Ranjeet Virali-Mugugesan, seeded eight, winning 6-0, 6-0, while Joseph Ubon lost to fellow compatriot, Emmanuel Ikakah, 6-1, 6-2.
Unseeded Omoile lost to Dino Marcan, seeded five, 3-6,2-6.
Japan's Hiroki Kondo ranked 276 and the tournament's number one seeded player, proved his rating as he saw off Slyvain Anibe of Cote d'Ivorie in two straight sets of 6-0, 6-0.
Meanwhile, in the female category, India's Prathana Thombare beat Loveth Nnadozie of 6-1, 6-1, while Ronke Akingbade lost to Anna Norgina of Russia, 6-2, 6-0.
The Futures 1 tournament of the 2-week championships rounds off on 19 October.