The All Progressives Congress, APC, candidate in the 16 November governorship election in Anambra State, Senator Chris Ngige says the state is now the 20th poorest in Nigeria under the tenure of Governor Peter Obi.
Ngige said at a fund raising dinner in Lagos, southwest Nigeria, that during his first tenure as governor, Anambra State was one of the richest states in the country but lamented that things had changed as the state had been plunged into deep poverty.
"It is not about me. It is about our children and the future of the state. We have the human and financial resources to make Anambra State a place everyone would like to go to. Statistics don't lie. While I was there, Anambra was one of the richest states in the country, today we are the 20th in poverty ranking in the country. We must look at people based on who they are and their ability to deliver. The party they belong to is secondary," he stated.
He said his eight-year blue print to develop the state was jettisoned abruptly with most of the strategic projects left undone, while pledging to utilize the abundant human and financial resources of the state to make it a livable place for everyone,
"When they ask what I forgot at the Government House, I tell them I forgot my work plan for Anambra State. I will dust the blueprint when I get back there to rebuild Anambra State.
"Security has to be restored in Anambra State as well as unfettered freedom of movement, equity and fairness. With my team of dedicated people, I will complete the implementation of all that was left undone in my blueprint," he said.
Ngige debunked the notion that APC was a Yoruba party, saying that "the All Progressives Congress is not a party for any tribe. It is not a Yoruba party and Yorubas can never own it. It is not Hausa party; the Hausas can never own it. It is not Igbo party, Igbos can never own it. It is a Nigerian party for the progress of Nigeria. I say this because of the propaganda being peddled by the APGA government in Anambra State."
He noted that Anambra citizens were afraid to come home for fear of being killed or kidnapped, saying that "our people now engage a retinue of policemen and soldiers to accompany them when visiting home. This never happened when I was there. I want to bring back those glorious days. You must begin to visit your homes. This is the primary function of any government. Any government that fails to secure life and property has failed."
Speaking, Governor Babatunde Fashola called on  Anambra people to vote massively for Ngige as he had the needed experience to take the state to greater heights.
He asserted that out of all those who have offered themselves for the governorship of the state, Ngige was the most experienced man for the job, adding that experience is key to the business of governance.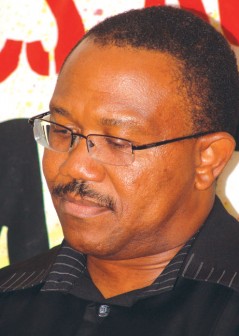 Fashola told the gathering of prominent Igbo businessmen and women at the Lagos House, Marina venue of the event that, "experience is very key in this business. So, if you support him things will happen quickly because he has held that office before and that is experience. He has Federal Civil Service structure experience; he served as a director in the Federal Civil Service. The driver of government is the Public Service. That is experience."
According to him, "no government will survive or succeed without parliamentary support. Dr. Ngige is now a Senator so he has also had the experience of the other side so he knows what it means, especially serving as an opposition Senator, to reach across the axles to do things and to get the government going."
Citing his experience on being elected Governor in 2007 to emphasize the importance of experience, Fashola said because he was in government of the state for four years as Chief of Staff to his immediate predecessor, assuming duties as governor was not stressful because he already had the experience of office modalities.
"When people ask, what is the secret here? I say I was in government, in the Governor's Office for four years; it was a quick platform from which to take off. That is experience. So from day one, I knew what to do with the file. That is what is on offer for you to choose in this election," he explained.
Also speaking, former Governor of Lagos State, Bola Tinubu, described Ngige as "a good man, very committed to the welfare of the people and committed to the progressive calling," adding that during his first coming, there were serious challenges which he was able to handle in addition to the many achievements of his administration.
"He had the challenge of an incumbent President who would not be his friend, the challenge of insecurity and the challenge of workers. At the same time he was able to concentrate on the peoples' welfare. Teachers' salaries that were not paid for over one year were paid. The arrears of pension and allowances of retired people were paid.
"If you take away the salaries from people, the ordinary housewives and traders in the market will not make money. Without salaries, they could not sustain families and if they could not sustain families that would create greater challenges such as insecurity. The fact that he tackled it and solved it was a sign of a committed individual with good vision," he said.
"I appeal to you to accept Ngige as an actualiser who could change Anambra. If you give us Anambra and you give us Imo in the progressives, you will see that the entire East will change. Go round the southwest, you will see performances. All you need is a catalyst, a good example that will be now widespread," he added.
—Kazeem Ugbodaga