Damilare Okunola
The two Nigerian players remaining in the Men's Singles Event at the ongoing Governor's Cup Lagos Tennis Championship, Shehu Lawal and Kehinde Alade, have both lost their respective matches.
This effectively means that no Nigerian player is left in the Men's Singles event.
Shehu Lawal lost to India's Jeevan Nedunchezhiyan 6-0,6-3 while Kehinde Alade fell like a pack of cards to Ruan Roelofse of South Africa,6-1,6-0.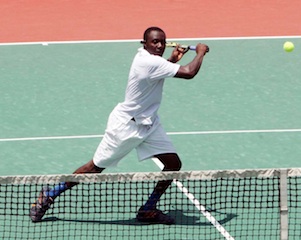 A devastated Alade told P.M. NEWS Sports after the encounter that his opponent proved to be stronger than he and there was no way he would have overcome the South African though he was unhappy about the loss.
According to him, "I was not happy to have lost though he's a very good opponent and a superior one at that. I tried to win a game in the first set but in the second set, everything just went against me".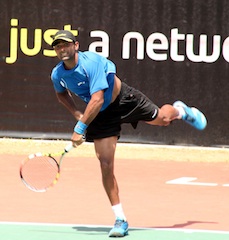 Number four seed, Ante Pavic from Croatia, defeated Mithun Murali from India, 6-1,6-4 while Croatia's Borna Coric dumped Theophile Segodo of Benin 6-2,6-1.
In other results, Dino Marcan (CRO) beat Alexis Klegou (BEN) 7-5,6-2; Men's Singles number one seed, Hiroki Kondo from Japan crushed Beninoise, Felix Hounkpevi 6-2,6-2 and Andre Gaspar Murta from Portugal ousted David Chaplefeh Forchap from Germany 6-1,6-2.
In an all-Indian encounter, Ranjeet Virali-Murugesan defeated his compatriot Vishnu Vardhan 6-3, 6-4.
In the Women's Singles, former winner, Russian Nina Bratchikova proved too strong for Jasmin Steinherr from Germany 6-3,6-1 just as Britain's Naomi Broady walloped Margarita Lazareva of Russia 6-1,6-0. Slovenia's Dalila Jakupovic also sent Anna Morgina of Russia packing after the former won 6-3,6-3.
The duo of Shehu Lawal and Sunday Maku lost their chance to advance to the semis of the Men's Doubles event as they allowed the pair of India's Mithun Mirali and Tunde Segodo stopped their incursion when they were 6-1 up in the super tie break after playing 6-3,2-6 in the first two sets.
The Nigerians eventually lost the tie break, 10-8 and only had words of blame for each other after the match.
In the other doubles quarter final matches decided this afternoon, Croatian pair of Borna Coric and Dino Marcan defeated Nigeria's Candy Idoko and Daouda Ndiaye of Senegal 6-2,7-5; Jannis Liniger from Switzerland partnered Mark Fynn of Zimbabwe to wallop the Nigerian pair of Kabiru Abdulmalik and Christian Paul 6-0,6-0

Load more