A National leader of the All Progressives Congress, APC, Asiwaju Bola Ahmed Tinubu, has decried the precarious state of the nation, warning that Nigeria must start now to chart a new path in the critical areas of its politics, economy, education and development of infrastructure or else risk rising levels of poverty and political discontent.
Tinubu, in a speech to be delivered later Wednesday at the 70th anniversary business lecture for the Island Club, Lagos , said: "We live in a fast-paced world but Nigeria is only crawling. In front of us, progressive development moves quicker than us. With each day, the distance between development and us increases. Behind us, calamity moves fast, gaining ground on us. With each day, it comes nearer and near to us."
He said Nigeria's over dependence on oil revenue and near total neglect of agriculture have placed the country on a precarious level of growth and development.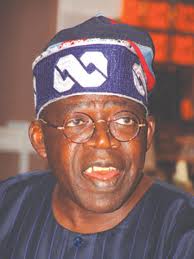 "I shudder to think of the state of the nation in years to come if we continue in this limp fashion. Those now in government take false solace in the belief that Nigeria is a land of happy, carefree people who will somehow manage to eke a living no matter how badly governed we might be. Those in governance better look again. Whatever happiness we had was born of fantasy or of faith and patience that a better day was to come," he said.
The former governor of Lagos State also cited the World Bank in its 2013 report on unemployment in Nigeria, saying the nation's unemployment rate is 22 per cent, while youth unemployment rate in particular is 38 per cent.
Tinubu, who was represented by the Governor of Oyo State, Abiola Ajimobi, said: "Nigeria today has no business parading the kind of burgeoning unemployment figures we read about. Nigeria has no business battling with the provision of stable electricity, what with its huge reserves of natural gas and the billions of naira sunk into the sector. Nigeria has no business with battling to provide good roads, mass transportation and efficient health services when its annual earnings of about $57 billion from oil revenue is taken into consideration."
He slammed the ruling Peoples Democratic Party, PDP, for lacking in inspirational national leadership, adding that the country is adrift on a dark ocean with no clue how to get to safe harbor.
"The people have lost faith that government is capable of solving the problems affecting them. The people see government more as a burden than benefit, more as overlord than a servant. The ruling party caused this. Most of its politicians are not interested in progress; they live to maintain power. Thus, they invest their efforts in gaining and keeping influence. They care little about solving public problems and devote scant time to those problems," he said.
Tinubu accused most of those in government at the centre of extravagant lifestyles and wasteful spending.
"They wash their feet in champagne. Meanwhile, too many people struggle to find clean water to soak their garri," he said.
He charged Nigeria's leaders to chart a new course by diversifying the economy, improving manufacturing sector and boosting energy production to guarantee moving in the right direction of growth and development.
"We can start to build a more promising future or tomorrow if we pay attention to the critical issues that assail us and reset our priorities as leaders and as followers. Agriculture holds the key to our future and the answer to swelling unemployment numbers. Let us make agriculture and oil production the twin engines of our development," he said.
Tinubu also reeled out statistics to show that Nigeria continues to lag behind in the critical areas of good governance and economic growth.
He cited the African Economic Outlook report by AFDB report of 2013 which revealed that poverty in Nigeria has worsened since 1996 and through 11 years of the Peoples Democratic Party, PDP, rule.
The efforts of President Jonathan's government at combating poverty was also faulted.
Another global institution, the World Bank also in its 'Nigeria Economic Report' released in May 2013 stated that "poverty rates remain high in Nigeria, particularly in rural areas.
"While the officially reported growth rates of GDP well exceed population growth in the country, the pace of poverty reduction does not, this implies that the number of poor Nigerians living below the poverty line has grown measurably.
"Nigerians want democratic governance, economic development, broad prosperity, justice, equality, moral purpose and human dignity. At that point, the state of the nation can be a state in which we are all proud and in which we all can live as free people," he said.
Tinubu lamented that Nigeria seems stuck in time on the development index, adding "this nation stands at the threshold between greatness and failure, between progress and collapse and hope and despair. As if blindfolded, we cannot decide which way is best.
"The picture of Nigeria as it now stands now, I would say, is an ambivalent one.
"Nigeria is a nation standing half in the light of progress and promise and half in the darkness of injustice. We live in a period of grave uncertainty. As things now stand, we have no idea where the nation is headed."
He, however, had kind words for the Island Club Lagos, a club he thinks Nigeria can learn from.
"The club has marched and advanced during the years. If only this nation had followed the trajectory this club set, we would be a nation in reverie. Instead, we are one quaked by regret," saying "though older than Nigeria, the club still shines. Unfortunately, the glow of Nigeria has turned to dross; the nation is a gem obscured by the grime of venal and menial leadership.
"Today, I state the name 'Island Club' not only has geographic significance, it also has poetic or figurative bearing. Yes we are located on an island but the club is also an island of good management, unity and vision in a sea of national muddle and confusion.
He also spoke about the proposed Jonathan conference.
According to Tinubu, "for years, the idea of a national dialogue has been broached. Government has always slapped the notion away. Now, devoid of ideas and with its back to the wall of poor performance, the current government grabs at the notion much like a drowning man does a life vest.
"Yes, we need to talk. I remain an ardent supporter of the call for a national conference that is sovereign and truly open to all. That is the only route out of the woods. We must bring Nigeria back on the path of true federalism. A staged-managed affair scripted and monitored to achieve the narrow political aims of narrow political minds in Abuja will do nothing but whet Confusion's appetite. Anything short of a Sovereign National Conference will be like trying to apply a bandage to a tornado. So soon after calling forth this event, we have seen the deceptive, unsure steps of the government.'
He said many of those that attacked his position in questioning the sincerity of the government are now retreating from the Jonathan Conference.
"All I ask is that you watch not with blind hope but with a watchful eye. I believe you will come to see this as the dark alley that I see."