Damilare Okunola
The ongoing Governor's Cup Lagos Tennis Championship recorded yet another upset as number four seeded player, Ante Pavic from Croatia, defeated Japan's number one seed, Hiroki Kondo o,6-3,6-2 in one of the semi final matches of the Men's Singles event.
The men's finalist at the first leg of the competition showed great agility and skills to break his opponent twice in the first set and eventually won the set in a spectacular fashion.
The second set was more like the first set and looked more like a formality as Pavic strolled past Kondo, winning 6-2.
In the other semi-final match decided on Friday at the Lagos Lawn Tennis Club, India's Jeevan Nedunchezhiyan overpowered Andre Gaspar Murta of Portuga 6-1,6-2 to set up a final match up against Ante Pavic.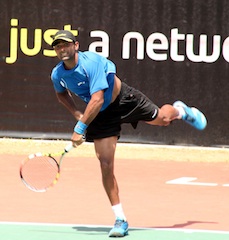 Another upset was also recorded in the Women's Singles event as Gioia Barbieri of Italy sent Slovenia's Tadeja Maeric packing in straight sets of 6-2,6-1.
Former winner, Nina Bratchikova from Russia, defeated Naomi Broady of Great Britain 7-6,6-4 in the other semi-final tie.
Meanwhile, Ante Pavic of Croatia partnered Ruan Roelofse of South Africa to knock out the Croatian pair of Borna Coric and Dino Marcan 7-5,6-3 in the Men's Doubles final match, just as the pair of Fatma Al Nabhani of Omar and Italian Gioia Barbieri battled to defeat Conny Perrin of Switzerland and Chanel Simmonds of South Africa 1-6,6-4 10-8 in an epic finale.
The Men's singles final will be played by 4pm Saturday, while the Women's Singles will be played two hours earlier.