Kenyan Vice President William Ruto must attend his crimes against humanity trial before the International Criminal Court and can only be excused under "exceptional circumstances," the ICC ruled Friday.
"The appeals chamber deems it appropriate to reverse" an earlier ruling excusing Ruto from most of his trial before the Hague court, said Judge Sang-Hyun Song.
Nevertheless, appeals judges agreed that "in exceptional circumstances the chamber may excuse an accused from continuous presence at trial," Song said.
Ruto said earlier this month that he wanted his trial to be suspended or for him to be excused so that he could deal with the fallout from last month's militant attack on Nairobi's Westgate shopping mall which left at least 67 people dead.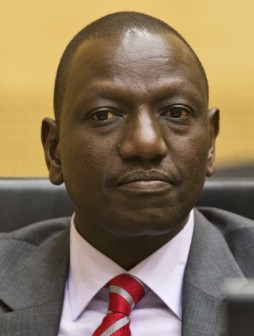 The ICC put Ruto's trial on hold for a week after the attack so that he could return to Kenya and deal with the security situation.
Ruto went on trial last month, the highest-ranking serving official to do so before the ICC, on charges of masterminding some of the 2007-8 post-election violence in Kenya that left over 1,000 people dead and several hundred thousand displaced.
Kenya President Uhuru Kenyatta's trial on similar charges is due to start next month, although he has been partially excused from attending all of his trial to allow him to fulfill his "demanding" political duties at home.
Ruto appeared confident as he arrived at court on Friday, joining his supporters for a group prayer ahead of the hearing.
The court has been caught up in accusations that it is targeting African leaders, with the African Union calling for immunity for heads of state and asking the UN Security Council to suspend ICC proceedings against Kenya's leaders for a year.
Judges ruled in July that Ruto could be excused from parts of his trial, but suspended that decision a month later after prosecutor Fatou Bensouda appealed.
Victims of the post-election violence had also opposed the ruling excusing Ruto from most of his trial, which required his absence to be "seen to be directed to his duties of state".
In Friday's ruling, judges noted that the accused is "not merely a passive observer of the trial but an active participant".
Therefore, decisions on excusing Ruto from parts of his trial must be taken on a case-by-case basis and his absence "must not become the rule".
Any absence must be limited to what is "strictly necessary", Song said, and judges must have considered all other alternatives, including changes to the trial schedule.
Appeals judges said that the trial chamber in July had "interpreted the scope of its discretion too broadly and therefore exceeded the limits of its discretionary power."
July's ruling had "provided Ruto with a blanket excusal even before the trial commenced, effectively making his absence a general rule and his presence an exception," Song said.
Ruto, 46, and Kenyan radio boss Joshua arap Sang, 38, stand accused of stoking the worst violence in the east African country since independence in 1963.
Both Ruto and his one-time foe and now political partner, Kenyatta, who also goes on trial on November 12 on similar charges, have pledged their cooperation with the court and are maintaining their innocence.
Kenyatta, who was elected president in March, has long argued that his trial would hamper his running of the country.
The Kenyan president is currently only required to be in court for the trial opening, the verdict as well as when victims are giving testimony against him.