The national leadership of the All Progressives Congress (APC) on Friday invited Governor Murtala Nyako of Adamawa and his supporters to join the party.
The invitation came a day after the APC leaders also invited Kano State Governor, Rabiu Kwankwaso and the governor of the neighbouring Jigawa state, Sule Lamido.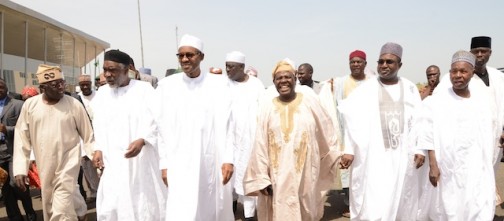 Speaking during a visit to the governor in Yola, Gen. Muhammadu Buhari, who led the delegation, said that the team was touring the states controlled by the G7 governors of the PDP to woo them to the APC.
Buhari thanked Nyako and people of the state for the rousing reception accorded them at the Yola International Airport.
The former Head of State said that injustice and abuse of the rule of law and flagrant disregard of the tenets of democracy were the major problems affecting the country.
He urged Nigerians to support the APC to move Nigeria forward.
Also speaking at the occasion former Lagos Sate governor Bola Tinubu, said Nyako and his followers had found themselves in the wrong party and urged them "to retrace their steps and join the right party, APC".
He said Nigeria needed the cohesive efforts of all and sundry in the political arena to join hands with APC to move the nation forward.
"We are in Yola for the same mission of wooing the G7 governors to join hands with the APC stalwarts to salvage the country from the impunity of the ruling party," Tinubu said.
He said APC leaders were ready to fight injustice and save Nigeria from the PDP and to inject a new lease of life in the polity.
Responding Nyako said he would, at the appropriate time, along with his teeming supporters, respond to the APC's invitation to join the party.
The visiting APC chieftains included the Interim National Chairman of the party, Chief Bisi Akande, National Publicity Secretary, Lai Mohammed, former Lagos State governor Buba Marwa and the North East Zonal Chairman of the party , Alhaji Umaru Duhu.