Juventus forward Carlos Tévez has warned the Italian team to beware of Real Madrid when both sides clash in tonight's UEFA Champions League match
With his side needing a win at home against Real Madrid to get their Group B campaign on track, the former Manchester City striker believes it won't be an easy win.
"I expect a tough game, like at the Bernabéu, but we'll see," he told uefa.com. "We've got to see what happens on the pitch. Sure, the fans will be behind us all the way and they are a great help to us, but they aren't out there playing. On the field, it's us players who must play like we did in Madrid.
"Real Madrid are strong – there's no doubt about it – but I have to look at our next three games and I think they are all like finals, not just this one; we've got to win all three. This game is like a final and we've got to play it like that. I hope it will be a brilliant game for everybody."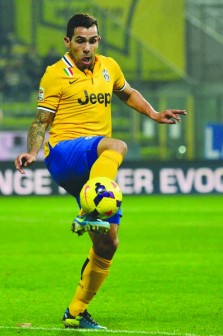 The Argentinian international has not scored in Europe's top club competition since 7 April 2009, when he netted for Manchester United FC in a 2-2 home draw with FC Porto, and with his current team third in Group B, seven points behind section leaders Madrid, the 29-year-old would love to make his mark in Turin. "Let's hope so," he said at Monday's pre-match media conference. "I really hadn't realised it was so long since I last scored. If I haven't scored for four years, then let's hope that changes tomorrow (today)."
Meanwhile, Real Sociedad de Fútbol may not have a point in Group A but coach Jagoba Arrasate believes they can beat leaders Manchester United FC at the Anoeta. "If we do things right, we can win," said Arrasate, who has been heartened by his side's improved domestic fortunes. United counterpart David Moyes has seen his own team's Premier League form improve and is hoping the visitors' European experience will work in their favour once more.
"We've improved our league form – we've got more points and more goals now, so in that sense we are more confident. But I don't know if it's enough to close the gap with United that we saw at Old Trafford. United were superior in England although I think we can do things better," he said.