NEW ORLEANS (AFP) – President Barack Obama Friday accused Republicans of slamming on the brakes every time the US economy is set to take off, as he cheered jobs and growth data that defied expectations.
Obama traveled to the port city of New Orleans and warned that a government shutdown last month, which he blamed on his political foes in Congress, had dampened US economic prospects.
"We learned yesterday that over the summer, our economy grew at its fastest pace in a year," Obama said.
"The bad news is that the very day the economic quarter ended, some folks in Washington decided to shut down the government and threatened to default on America's obligations for the first in more than 200 years.
"It's like the gears of our economy, every time they are just about to take off, suddenly somebody taps the brakes and says, not so fast."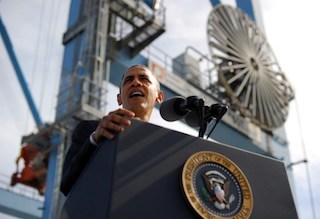 Obama noted Friday's Labor Department data that showed the economy churned out more than 200,000 jobs in October, which was higher than expected, but said the shutdown had tempered the country's employment engine.
"These self-inflicted wounds don't have to happen. They should not happen again. We should not be injuring ourselves every few months.
"We should be investing in ourselves. We should be building, not tearing things down," Obama said.
Specifically, the president called on lawmakers to pass an agriculture bill currently stuck in the divided Congress, to take up immigration reform bill that is stalled in the Republican-controlled House of Representatives and to agree on a long-term budget deal.
The Labor Department said earlier that the US economy created 204,000 jobs last month, many more than analysts expected, though the unemployment rate ticked up slightly to 7.3 percent.
On Thursday, the Commerce Department said the US economy grew at an annual rate of 2.8 percent in July-September, well above the 1.9 percent projected by analysts, in the strongest pace of growth in a year.