The Peoples Democratic Party (PDP) in western Nigerian state of Osun has lifted the suspension of some members of the party believed to be loyalists of the party's national Secretary former Governor Olagunsoye Oyinlola.
Oyinlola, alone with some members of the party, was suspended by the state chapter of the PDP in September, after a rally in Okuku, his home town.
Alhaji Ganiyu Olaoluwa, state chairman of the party announced the lifting of the suspension on Friday in Osogbo.
The move followed the judgement by the Federal Court of Appeal in Abuja which upheld the election of Oyinlola as the duly elected as National Secretary of the party.
Olaoluwa said the party took the action at the end of its State Executive Committee meeting held at its secretariat in Ogo-Oluwa Osogbo.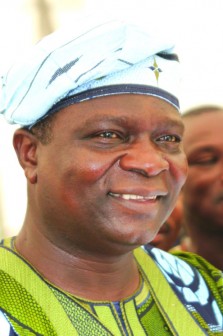 It said the party executive resolved that the suspension be lifted on the affected members in response to the court's ruling that re-instated Oyinlola as the party's national scribe.
In a statement, Olaoluwa also said that the party had granted "state pardon" to other chieftains of the party, who had earlier been suspended for similar reasons.
Affected persons were Alhaji Ademola Rasaq, former state chairman and Chief Yinka Adeojo, former state secretary of the party as well as Alhaji Bakare Akomola, a party chieftain.
The statement said that the party had become united, stronger and more focused, stressing that all the bickering among members had become a thing of the past.
While the Osun PDP granted reprieve to the former governor, the national body has vowed to challenge the appeal court judgement that reinstated Oyinlola as the party's national secretary.
The party (PDP) has said it will proceed to the Supreme Court to challenge Wednesday's Appeal Court's reinstatement of former Osun governor, Olagunsoye Oyinlola, as its National Secretary.
The Deputy National Publicicty Secretary of the party, Alhaji Abdullahi Jalo, disclosed this to newsmen in Gombe, on Friday.
Jalo said that a legal team of the party was already preparing papers to appeal the judgement, adding that Oyinlola would not be sworn-in.
"Now, we are going to apply for a stay of execution. Oyinlola should not be allowed to even go close to Wadata Plaza, the national secretariat of the party.
"He cannot go there; we are appealing against the decision," he said.
He, however, added that "we respect what the judiciary has done and it is an act of courage, and whoever is the Judge that did it, he did it within the premise of the law and we have taken it in good faith.
"But we are appealing against the decision of the court," he said.