Ayo Oluokun/Abuja
Former governor of Osun State, Prince Olagunsoye Oyinlola has been expelled from the Peoples Democratic Party, despite his denial of defection to the opposition All Progressives Congress, APC in a radio programme in Abuja on Wednesday.
PDP's National Disciplinary Committee set up by the leadership of the Bamanga Tukur recommended Oyinlola's expulsion, alongside Dr. Sam Sam Jaja and Alhaji Abubakar Baraje, the Deputy National Chairman and Chairman of a faction of the ruling party popularly known as the new PDP respectively.
The New PDP formally merged with APC Tuesday.
The three party chieftains who were in the executive of the breakaway PDP had earlier been suspended on 11 November for anti party activities.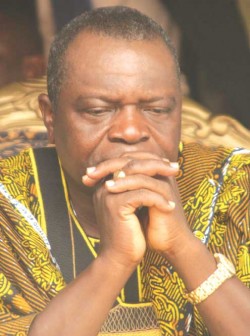 Chief Ebenezer Babatope, the Deputy Chairman of the Disciplinary Committee, who announced the suspension, said Baraje, Oyinlola and Jaja were guilty of engaging in anti party activities as was alleged against them.
He however said the case of Senator Ibrahim Kazaure who was also suspended alongside the trio, had been deferred for one month. Babatope said Kazaure has been asked to appear before the committee on 10 December to give more explanations on the charges against him. The committee therefore extended his suspension by 30 days.
Oyinlola however maintained that he remained the national secretary of the PDP based on 6 November, Court of Appeal Abuja judgment in which he was ordered to be reinstated to office, but which the party refused to comply with, but instead, suspended him.
This is despite the fact that he was a prominent face among members of the new PDP who formally joined APC, after a meeting of the leaders of the two groups at the Kano State Governor's Lodge yesterday.
Oyinlola had earlier on Wednesday said on a radio programme that he was not part of those who joined APC yesterday.
"I have been the National Secretary of the PDP based on the judgment delivered on November 6 and until a superior court reverses it, I remain the National Secretary of the PDP, " said the former Governor.
The former Governor said his election as the National Secretary of PDP at the party's convention held in March last year still stands.
On his presence at the meeting where the merger of the faction of PDP with APC was announced yesterday, Oyinlola said it was part of the discussion his group has been having with the opposition: "Yesterday (Tuesday), some people decided to move on. I as the National Secretary have no alternative than to remain because the Court of Appeal said I was validly elected. Until a superior court reverses that I remain the National Secretary of the PDP. I am telling Nigerians that I was validly elected as National Secretary in March last year."