The Alhaji Kawu Baraje-led Peoples Democratic Party (PDP) splinter group said it had not formally merged with the All Progressives Congress (APC) as reported in the media.
The National Publicity Secretary of the group, Mr Chukwuemeka Eze, denied the merger when he spoke with newsmen in Abuja on Wednesday.
According to him, the group is still open to reconciliation. What happened on 26 November 26 is a declaration of intent to merge.
"The parties in the alliance have just set up a committee to work on the conditions of the purported merger. Can we merge without conditions,'' he asked.
Eze said the event which took place at Kano Governors' lodge in Abuja was misrepresented, adding that the parties involved were yet to sign the memorandum of understanding (MoU).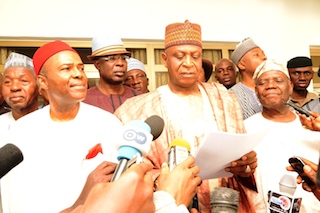 He said the report of the committee would be submitted to the steering committee on Dec. 26, adding "it is only after we have signed the MoU that you can say we have merged.
The spokesman of the splinter group said Baraje's first phrase was that "we have agreed to work together, but it was Chief Bisi Akande, who insisted on the use of the word merger.
"I want to tell you that the matter is not concluded. We have to share positions. We have to agree on what will go to us, and what will go to us, is what the committee is still working on, nobody has signed the MoU,'' he said.
The publicity secretary said the splinter group would attend the December 1 peace meeting called by President Goodluck Jonathan, adding that "all options are still on the table''.
"If the president agreed to our conditions, if we have agreements on issues that created the crisis, then we will not sign the MoU with APC on Tuesday. So, from now till Tuesday, anything is still possible. If we meet on Sunday and our conditions are attended to, then the merger won't go ahead.
"If Gov. Amaechi is returned as NGF Chairman, if the structures are returned to the governors of Adamawa, Kano and Rivers, then our leaders will look back and stop signing the MoU.''
He, however, said that the splinter group was not desperate.
"It was the way we are being treated that is making everybody desperate. Who will not be desperate with the way we are being treated,'' he said.
The Baraje-led splinter group had in a communiqué, after a meeting with official of the APC on 26 November agreed to merge.
The communiqué was signed by Akande, the interim National Chairman of the APC and Baraje, on behalf of the splinter group
The PDP National Disciplinary Committee headed by Dr Umaru Dikko, had recommended the expulsion of Baraje, Olagunsoye Oyinlola and Sam Jaja from the PDP. (NAN)