Roy Hodgson conceded England face a daunting task to qualify for the knock-out stages of the World Cup after being drawn in one of the strongest groups at next year's tournament in Brazil.
Hodgson's side were pitted against Italy, Uruguay and Costa Rica in Group D and the England coach could only manage a wry smile when he learnt his team's fate while watching Friday's draw in Costa do Sauipe.
Even more revealing was the reaction of English Football Association chairman Greg Dyke, who was seen shaking his head and drawing his finger across his neck in a cut-throat gesture that suggested he has little confidence in England making it to the last 16.
Hodgson admitted he would have preferred an easier group, but claimed he had already prepared for the worst given the quality of so many of the 32 teams.
"It's a tough group, there's no doubt about that. In Italy and Uruguay it's almost as though we have got two number one seeds in our group," Hodgson told the BBC.
"Italy were very unlucky not to be seeded in the first eight. We know how good Italy are because we lost to them in the quarter-finals at the Euros.
"There were not going to be many scenarios where we were going to be jumping for joy. It doesn't surprise us.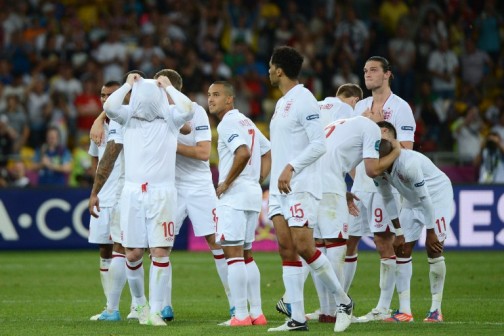 "I suppose one positive is that we have only got one long trip, then the other two are in the same neck of the woods."
Hodgson's side will open their Group D campaign against Italy in the tropical heat of Manaus on June 14.
They then head to Sao Paulo to play Uruguay on June 19 and the final group fixture is against Costa Rica in Belo Horizonte on June 24.
Hodgson has already confirmed England will base themselves in Rio de Janeiro for the tournament.
Manaus is a five-and-a-half hour flight from Rio and is located in the Amazonian rain forest, with 99 percent humidity.
On the plus side for England, it is just over 200 miles to Sao Paolo and less than 300 to Belo Horizonte, where they famously lost to the United States in a 1950 World Cup upset.
"The good thing is that we know each other and the other thing in our favour is that the game we have got in the north, where the conditions are going to be tough climatically, is against another European team so we are both going to be in the same boat," Hodgson said of the Italy clash in Manaus.
"There were many scenarios when I would be thinking this is going to be very tough for us.
"To get one that is a bit tougher doesn't surprise me at all because there is a lot of travelling to be done in most of the groups.
"Our great advantage is being based in Rio means we only have one long trip."
Italy beat England on penalties in the Euro 2012 quarter-finals, while a Uruguay team featuring Liverpool striker Luis Suarez will also pose a stern test.
The bookmakers were quick to give a downbeat verdict on England's chances, with the team drifting from 25-1 to 40-1 to win the World Cup following the draw.
While many fear England will be up against it, Manchester United forward Wayne Rooney struck a defiant tone as he assessed the draw.
"If we want to be the best, we have to beat the best. Tough group but really looking forward to it! Roll on Brazil 2014!" Rooney said.
Arsenal midfielder Jack Wilshere followed Rooney's upbeat stance and wrote on Twitter: "Tough group. But so what? If we want to win it we will have to play the best teams anyway."