FOLARIN ADEMOSU
Kwara State Governor Abdulfatah Ahmed has rebutted a claim that his predecessor, Senator Bukola Saraka, asked indigenes plying the parlous Kaima road in the state's North Senatorial district to fix it by themselves.
Governor Ahmed rather blamed the disrepair on Federal Government's lukewarm disposition to fixing it despite pressure from state officials.
A certain twitter user, Engineer Haroun Mustapha, with handle @harmus14 said "if truly ABS (Abubakar Bukola Saraki) asked peeps in Kaima to fix their road, its quite unfortunate and sad."
The user asked the government to emulate Lagos State government by adopting Private-Public Partnership approach to repairing bad roads in the state.
Responding, Ahmed on his twitter handle [email protected]_Ahmed – Wednesday [email protected], saying his claim was "not true."
"Not [email protected] bukolasaraki, other Kwara lawmakers and myself (Governor Ahmed) have mounted pressure on the FG to fix its roads in kwara. Be constructive," the governor said.
Perhaps dissatisfied by the governor's explanation @harmus14 replied: "Some of us might share ur (sic) explanations, but many sees (sic) it as a failure on government part."
This did not attract a further comment from the governor though, to another user – @kaima network road – he said: "We are packaging funding for Kaima-Kishi road. Once funding is in place, the contractors will mobilise to site."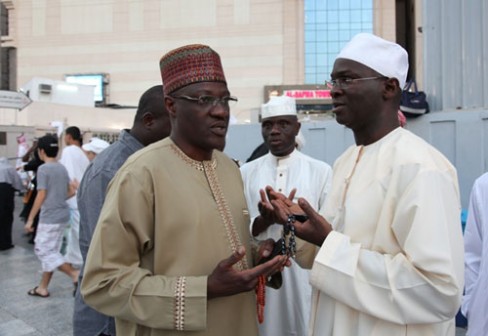 Meanwhile, ABS is an acronym by which former Governor, now, Senator, Bukola Saraka is addressed.
He was believed to have installed Governor Ahmed and known to inherit his late father's, Olusola Saraki, political dynasty with studied grip on the state's politics.
Saraki represents Kwara Central senatorial district in the senate, as well as its committee chairman on Environment and Ecology.
In February, Saraki visited the Minister for Works, Architect Mike Onolememen to complain about bad roads in the state.
The roads he asked the Minister to pay urgent attention included Omu-Aran-Egbe, Offa-Erinle-Osun State boundary, Kaima-Kishi, and Jebba-Mokwa.