The Premier League clash between current leaders on the table, Arsenal and Chelsea has been the talk of the town even when the cracker is still coming at the Emirates in London on Monday.
Chelsea goalkeeper Petr Cech says he is confident the Blues can rattle Arsenal at the Emirates. Cech wants to "twist the table" with victory in the derby at a ground where they have lost just once on their last seven visits.
The 31-year-old said: "Arsenal is always a big game. But we can go first if we win so it is a massive game for both teams, because if Arsenal want to stay top and not lose their momentum they need to win. We know winning will twist everything in the table."
Despite their roller-coaster season, Chelsea are just two points behind Premier League leaders Arsenal heading into Monday's clash between the sides and are looking forward to their last-16 Champions League tie against Galatasaray.
Cech is encouraged they are in a strong position despite playing relatively poorly and has set his sights on victory at the Emirates to give Chelsea a chance of leading the table at Christmas and regaining their League crown.
"We topped our group in the Champions League and are two points off the top of the Premier League so we are in a good position," said the goalkeeper.
"There is room for improvement and we know that but it is very encouraging to be in such a good position in the period when you know you have room for improvement.
"It is our target to be top of the Premier League and that was why it was important to beat Crystal Palace [last weekend] so we could close the gap to Arsenal and stay ahead of Manchester City."
Mourinho may have to invest in another striker in January to ensure his side last the distance in the title race. Fernando Torres, Samuel Eto'o and Demba Ba have scored just five Premier League goals between them this season while Romelu Lukaku has eight on loan at Everton.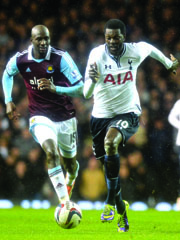 And Ba admits it is difficult for Mourinho to ensure all of his forwards are given a chance.
"We have a few strikers. Everyone wants and needs to play," said the Senegalese. "Potentially we can be top [at Christmas] as we are two points behind. We are going game by game."