Ibadan residents could not have bargained for a more entertaining Xmas show as Globacom locked down the city with a bumper Glo Lafftafest package that paraded 17 national and international artistes in one single swoop.
The expansive hall of the famous Kakanfo Inn was packed to the brim by 5pm and the perimeter foyers were not spared too, just as thousands who could not get a space in the hall made use of the large screen beaming the show live.
With Nigeria's biggest comedy export, Basketmouth anchoring, the Ibadan edition of the show paraded other stars such as Gbenga Adeyinka, Bovi, Seyi Law, Bash, Akpororo, Osama, Akapella, Odogwu, Omobaba and Ajebaba.
All the acts found an object of interest peculiar to Ibadan to peg their comedy sessions while the crowd were amazed to see Warri boy, Akpororo thrilling them in flawless Yoruba.
A comic character, Lagbeja, was again the hero of his jokes. Thought to be a dullard, Lagbeja sometimes threw punch lines that bewildered his teachers and colleagues.
The show also featured the Ugandan sensational standup comedian, Salvador who got a standing ovation as he entertained the audience with the nuances of the people in his native Ugbokolo village.
Salvador thanked Globacom for making 2013 the most memorable in his career by featuring him in all the Lafftafest shows. Salvador had won the silverware when Nigerians adjudged him as the best-in-class among the foreign comedians who performed at the mega Lafftafest shows.
While Africa's best DJ, Jimmy Jatt manned the juke box, the Nigerian music industry was represented by the trio of Lynxx, Burna Boy and MI.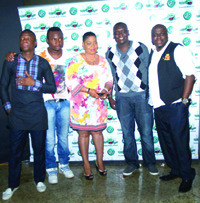 The three, aided by the dexterity of Jimmy Jatt and DJ Lambo, turned the venue into a dance hall. The crowd rocked with them. Burna Boy particularly had a great show as he won the overwhelming sentiment of the crowd. He brought down the roof when he sang, "Ni 'badan ni won bi mi si o". It was like a clarion call. Almost everybody in the hall got up and sang with him till he ended his session.
Blazoning pyrotechnics, triggered simultaneously with a blizzard of confetti, heralded MI's appearance on stage as the last act of the night and the 10-week sensational show. MI ended the show in a blaze of glory. Basketmouth and the cast of comedians joined MI as he did the last song, took a bow and thanked the crowd for making the evening and the entire project a success.
Globacom packaged the Glo Lafftafest tagged Invasion L.O.L. as part of the activities marking its 10th year anniversary. The show kicked off in Lagos with the mega edition, which also held in Abuja and featured top American, South African, Ugandan and Nigerian artistes.
Thereafter, the show, described as Africa's biggest comedy show, was staged in other cities such as Owerri, Port Harcourt, Benin, Abakaliki, Enugu, Uyo and Asaba.
–Funsho Arogundade