The Director General, National Emergency Management Agency (NEMA), Alhaji Mohammad Sani-Sidi,has appealed to state governments whose indigenes were affected in the Bangui crisis, to collect them from the Hajj camp in Abuja.
Sani-Sidi made the appeal on Sunday in Abuja while on inspection of the Hajj Camp where the evacuees from Bangui,Central African Republic (CAR) are being accommodated.
He said that prompt collection of the evacuees from the camp by the state governments whose indigenes were affected, would reduce their suffering.
"The immediate collection of the evacuees will facilitate their integration into the society. The affected state governments had since been contacted to collect their indigenes from the camp.
"The evacuees were interviewed in Bangui and certified to be Nigerians," he said.
On Friday, the DG also addressed the evacuees at the Nnamdi Azikiwe International Airport in Abuja, pledging the agency's willingness to work with State Emergency Management Agencies (SEMA) to reintegrate them into the society.
Borno has the highest number of returnees with more than 300 returnees of the 1,113 evacuated between Jan. 3 and Jan 4.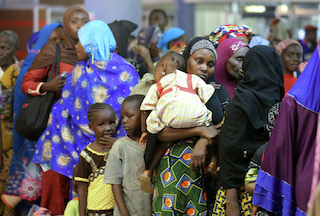 A NEMA official involved in the evacuation– who did not want his name mentioned– said Anambra was second with more than 280 returnees.
Three injured evacuees are receiving treatment at the Nigeria Air force Base Medical Clinic onmthe Airport Road.
Mr Umar Abubakar, an indigene of Borno, who is being treated for bullet wounds from the crisis in Bangui, said he was shot on the chest while trying to run to safety.
An aged woman who gave her name as Hajia Aisha is being treated for High Blood Pressure.
Aisha, who hails from Mubi in Adamawa, said she and her grand children were among survivors from the Bangui crisis.
Another evacuee, Malam Musa Mohammed, who is also ill, is receiving treatment at the medical clinic located at the Airforce Base, on Bill Clinton way, near the airport.

Load more