The President of Confederation of African Football, Dr. Isa Hayatou, arrived Lagos, Nigeria on Wednesday ahead of Thursday's Glo-CAF Awards Gala Night, describing Nigeria and Dr. Mike Adenuga Jnr, Globacom's Chairman, as the Pillars of African football.
Alhaji Hayatou whose first official assignment in Nigeria upon his arrival from Cameroun for the event was a visit to the Lagos State Governor, Mr. Babatunde Raji Fashola said Nigeria, to him, is the Pillar of African football because each time he and CAF faced difficulties, it was Nigeria they turned to for succour.
He also lauded Dr. Adenuga, describing him as one of the great pillars of African football because of his lofty and innumerable contributions to the comprehensive development of African football.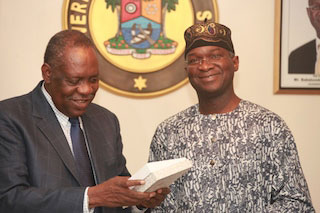 He cited the CAF Awards, the 2013 edition of which will hold at the Eko Hotel Convention Centre on Thursday and sponsored by Globacom for the eighth consecutive year in a glamorous manner that has brought pride and dignity to the continent's football, as an example of the quality of support Dr. Adenuga has given the game in the continent.
A release from the organisers of the Glo-CAF Awards on Wednesday says that the CAF President, who spoke in French, seized the opportunity of the visit to invite the Lagos State Governor to attend the Glo-CAF Awards.
He said the recent run of good results accomplished by Nigeria in continental and global football is a reflection of the quality of support Governor Fashola and other Nigerian leaders have given the game.
"You have massively supported youth development and African football. We shall be greatly honoured if you can find time out of your extremely busy schedule to join us at the event tomorrow (Thursday) which celebrates the best of African football. Africa will feel highly honoured if you can dignify us with your presence at the event", said the CAF President.
Governor Fashola said it is a great privilege for Lagos State to be the host of such a huge event like the annual Glo-CAF Awards, indicating that he would honour the invitation.
He said Dr. Hayatou has contributed significantly to the growth of African football, saying that under his watch, the continent's football has made giant strides including hosting the FIFA World Cup and World Club Championship in South Africa and Morocco respectively.
"The FIFA World Cup can now be truly called a World Cup having been played in Africa because of the amazing job you (Hayatou) did. It was also such a delight to see the champions of Europe and South America playing on African soil in Morocco for the first time at the World Club Championship. These were all made possible because of your massive contributions", said Governor Fashola.
He urged the CAF President to use his clout in global football to attract the economy of football to Africa. "Mikel Obi, Samuel Eto, Didier Drogba and the rest are playing football in Europe and elsewhere today under inclement weather and even wearing gloves not because the football they play there (Europe) is better. They are because that is where the economy of football is. What I will like to see is for you (Hayatou) to leverage your clout to get the economy of football to move to Africa so that the football, hose, jersey, goal post and other things they use in football can be made in Africa", said the Governor whose comment was applauded by the audience and acknowledged by Hayatou.
Accompanied by his wife, Alhaji Hayatou arrived at the Murtala Muhammed International Airport and was received by President of Nigeria Football Federation, Alhaji Aminu Maigari and Globacom's Executive Director (Special Projects), Mr. Mike Jibutoh.
There were also Members of NFF Executive Committee, Chief Emeka Inyama, Alhaji Muazu Suleyman and Alhaji Yusuf Fresh, Nigeria's former Member of the FIFA Executive Committee, Dr. Amos Adamu, CAF Executive Committee member Anjorin Moucharafou, former NFF Vice President, Mazi Amanze Uchegbulam, Olabode Opeseitan (Globacom's Director of Public Relations), Ademola Olajire (NFF's Assistant Director of
Communications) and Nasiru Jibril (Personal Assistant to NFF President).