Ivan Dodig feared he might die and Serena Williams said the high temperatures were making her "paranoid" Wednesday as sweltering conditions continued at the Australian Open.
With temperatures above 40 Celsius (104 Fahrenheit) for the second straight day, Dodig became the latest casualty when he retired with severe cramp after four sets against Bosnia's Damir Dzumhur.
"I was thinking I could maybe even die here," said Dodig, calling for an afternoon break in play. "It's not acceptable to play in these conditions," he added, according to reports.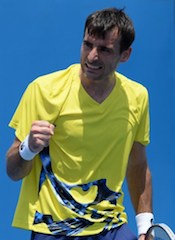 Dodig's complaints follow dismal scenes on Tuesday, when Canada's Frank Dancevic blacked out, China's Peng Shuai vomited in the extreme heat and a ball boy collapsed.
Ice packs and isotonic drinks remained in high demand on Wednesday as temperatures hit 41.5 Celsius in the early afternoon, but then dropped to 32 Celsius by 6:00 pm.
Dodig became the tournament's 10th withdrawal or retirement, after a Grand Slam record-equalling nine players pulled out during the first round.
Although most of the players cited injuries, Dutch player Robin Haase was another victim of cramp, which is associated with hot conditions.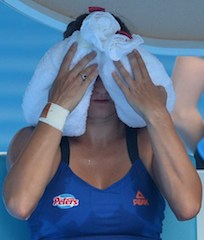 Dancevic, who felt dizzy and then fainted during his loss to Benoit Paire, said it was easier for players to suffer injuries when affected by the heat.
"I think when you're running around on court quite dizzy, you're more prone to getting injured also," Dancevic said. "You can't play the way you want to play, you can't move the way you want to.
"For sure, it can make players have injuries."
Tournament organisers said no players needed medical help on Wednesday, adding that conditions were not dangerous enough to warrant halting play.
Williams said she had become obsessed with staying hydrated and drinking enough water, to the extent that it was keeping her awake at night.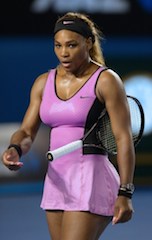 "I kept waking up in the middle of the night last night, just paranoid. I just wanted to stay hydrated," said the American.
"The last thing I want to do is to cramp in this weather. It can happen so easy. Just drinking a tremendous amount of water."
Britain's Andy Murray has warned that organisers were risking a tragedy by forcing players to go out in intense heat, which on Tuesday was melting plastic water bottles on the courts.
On Wednesday, British doubles player Colin Fleming said the courts were burning his body when he lay down to receive physio treatment.
"I said to the physio, It's literally boiling lying on this, so can you hurry up?" he said. "It was frying my body."
Temperatures are forecast to remain high on Thursday and Friday before dropping sharply on Saturday.