World number one Serena Williams on Sunday revealed she has a back injury and almost pulled out of the Australian Open, after she was upset in the fourth round by Ana Ivanovic.
The top seed said she was on strong medication and her movements were hindered, but refused to blame the problem for her performance.
"Maybe I wasn't the best physically, but that had nothing to do with it," she said, after being sensationally upset by the Serb 4-6, 6-3, 6-3 in the fourth round.
"I think Ana just played a really good match. She did what it takes to win."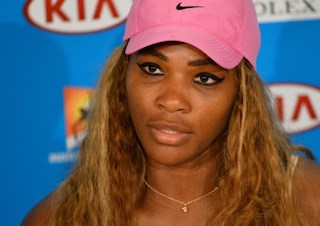 Williams did not give any details about her the back problem, but she said it had been affecting her for several days and she almost quit ahead of her third-round victory over Daniela Hantuchova.
"I almost pulled out. I'm such a competitor. I mean, I probably should have," she said.
"I have just been on the strongest meds I can take, that are legal, which my body didn't handle it well because I haven't been taking anything.
"So I was like really kind of out of it for a few days."
But she added: "Like I said, again, I don't want to blame anything. I feel like Ana deserves all the credit. I feel she played unbelievable today. I think she went for her shots.
"It's not like I gave her the match. I tried to fight the best I could today. But, yeah, I almost didn't play. But, hey, I did, and at least I feel good that I tried the best that I could on this day."
The defeat ended Williams' bid to match Chris Evert and Martina Navratilova with 18 Grand Slam titles as well as her quest for a sixth Australian crown.
She had already pulled out of the doubles on Friday, although that was blamed on an injury to sister Venus.
Ever the optimist, the 32-year-old, who won a career-best 11 titles last year and was the overwhelming favourite at Melbourne Park, said the defeat could work in her favour.
"I'm always disappointed when I lose, but it's always a good thing," she said.
"I plan on getting better. I think it's almost good that I lost today because now I know what to work on I know what to do when I get on the practice court.
"I feel very encouraged to go home, and pain or no pain, just to start working even harder. Every time I lose I feel like I get better, and I'm going to definitely go home and do a tremendous amount better."
AFp