Okafor Ofiebor/Port Harcourt
The Save Rivers Movement and Governor Rotimi Amaechi, had their rally in Bori, Rivers State today,with Nigerian police performing its constitutional role, by providing tight security as ordered by the Inspector General of Police,IGP.
Unlike the rally disrupted last week, there was no incident, despite the warning by some politicians that the rally be shelved.
And Governor Amaechi when he mounted the rostrum reiterated that $48.9 billion oil funds is missing from the Federation Account and that the money has found its way into private pockets. He challenged the federal Government to explain to Nigerians where the money is.
Amaechi reflecting on past disruptions of political meetings, including the shooting of Senator Magnus Abe, blamed the state's Commissioner of Police, Mbu Joseph Mbu, and those he described as his Abuja cohorts for the return of armed terrorism to the state.
Amaechi, who spoke today in Bori, headquarters of Khana Local Government area in Ogoniland at the Save Rivers Rally (SRM), which was disrupted by masked gunmen last week Sunday, with vehicles, canopies, Outside Broadcast Van of Channels Television damaged. There were also injuries to many people.
Governor Amaechi who decried the action of the Police for leaving citizens unprotected insisted that the rally had to be reconvened today after he insisted that Rivers people must enjoy the right to express themselves in a democratic dispensation.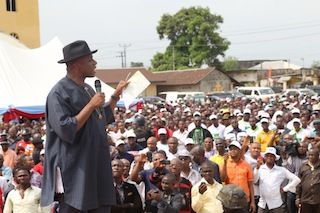 The governor also tasked the people of the Ogoni area not to allow any group to cow them through the use of arms to intimidate them, charging them that getting what they deserved from federal government would only come through struggling.
He lamented the non-implementation of United Nations Environmental Programme, UNEP report on the level of environmental degradation in Ogoniland that was submitted to President Goodluck Jonathan at the Presidential Villa on August 4,2011 by the UN investigators.
According to Governor Amaechi, "I came to Bori council on the issue of UNEP and we said be calm and quiet, let United Nations come and do their investigations and go home and that I will support you from the beginning to the end. United Nations finished all they needed to do and came back and said federal Government would spend at least $1 billion in the cleanup of Ogoni and the development of Ogoni people. Have you seen the $1 billion? And they want you to vote for them. It will be a foolish man that will vote for a person who denies you your rights.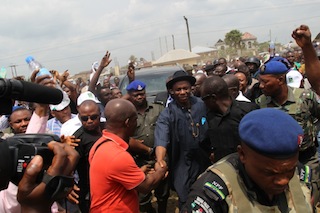 "The next thing that we want to do is to remind you that without UNEP report, Federal Government cannot develop Ogoni. We are all suffering; you can't fish, you can't farm, because your land is polluted. We told Federal Government One Billion Dollars alone, to spend in Ogoni, they said no."
He commended the Inspector-General of Police, Mr. Mohammed Abubakar for sending policemen to provide security at the rally, and apologised to the people of Ogoni ethnic nationality and Khana Local Government Area, in particular, for the ugly incident that occurred on Sunday, January 19, 2014.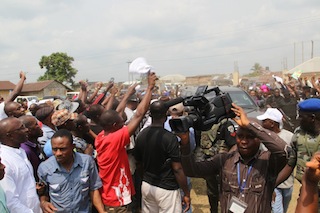 Amaechi said; "I want to start by thanking the Inspector-General of Police; I have to call him and I told the IGP that I am going to Khana. I thank him for sending security and reassure him that Rivers people are peace loving people. Let me also apologize to you on behalf of Mbu and those who came here to shoot last Sunday.
"One thing about power is that power is very transient; those who are using it now don't have a sense of history. If they have a sense of history, they should check all those who abused power in the past where they are now.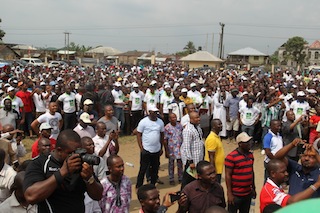 "Mbu has said he did very well in Oyo; I have spoken to the governor of Oyo State, he said Mbu didn't do well. He said in fact, what he is doing here; he was doing there on a smaller scale. Why he is doing a larger scale here is because very important people in Abuja are fuelling him. If he says it is a lie, let him call the governor. I spoke with the governor. So, Mbu can't say he has done well; he has done nothing.
"Let me start by tracing the history of this government. In 2007, this territory belonged to one militant called Solomon Ndigbara. I hear he is the person that came to shoot here. Nobody could gather; even the Police were afraid to gather here. The same people we chased away with the military are back to our state, fuelled by a man called Mbu and his cohorts in Abuja. They don't mind that your lives are important; they want to sacrifice your lives just to have the office of Presidency and the office of governorship."
Also speaking, the former leader of the Rivers State caucus in the National Assembly, Uchendu, said the 37 federal lawmakers cannot return to the PDP, since they have crossed the 'red-line'.
He said; "I speak on behalf of the 37 members of the House of Representatives that defected to the All Progressives Congress (APC). We have passed the red line; no going back. We are not going back to Egypt."