World record-holder Usain Bolt will not decide until the Jamaican championships in June whether or not he will compete in the Commonwealth Games a month later, his coach Glen Mills said.
The Kingston meet from June 19 to 22 will determine the athletics squad for the Commonwealth showdown in Glasgow, Scotland, where the athletics events will be staged from July 27-August 2.
"It's on the table," Mills said of the Commonwealth Games. "We will know at the Jamaica Trials, if he runs, then he will be going to the Commonwealth Games."
Bolt could open his 2014 season with a relay leg at the Gibson Relays in Kingston on February 22 or the UTech Classic in Kingston on April 12.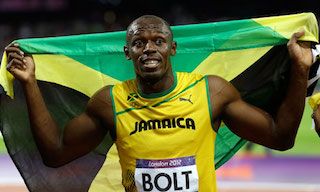 Jamaican fans hoped Bolt would have opened his season at the Camperdown Classic on Saturday in Kingston but Mills said Bolt would not compete at that meet.
"He has had a long and arduous past three seasons," Mills said. "He will make his entrance at a later date."
Bolt, 27, has won six Olympic gold medals and eight world titles.
He swept Olympic gold in the 100m and 200m and 4x100m relay at the 2008 Beijing and 2012 London Olympics, took the same three world crowns at 2009 in Berlin and last year in Moscow and won 200m and relay crowns at Daegu, South Korea, in 2011.
Bolt set the 100m world record of 9.58 seconds and the 200m record of 19.19 at the 2009 worlds in Berlin.