Real Madrid's Cristiano Ronaldo was hit on the head by a lighter thrown from the crowd as the players headed for the dressing rooms at half-time in Real's Copa del Rey semi-final, second leg away to Atletico Madrid on Tuesday.
Ronaldo all but sealed Los Blancos' place in the final with two early penalties to leave Cup holders Atletico trailing 5-0 on aggregate.
The Portuguese star was then booked just before the break after clashing with 19-year-old Atletico right-back Manquillo.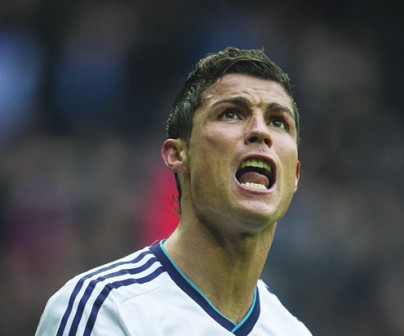 And as he walked off the pitch moments later Ronaldo was struck by a yellow lighter that appeared to have been thrown from a section of the Atletico support.
However, the Ballon d'Or winner was not seriously injured and was able to take his place on the pitch at the start of the second-half.
Ronaldo's two goals were enough to seal Real Madrid place in the Copa del Rey final with an aggregate 5-0 win over holders Atletico.
Real will face either Barcelona or Real Sociedad in the final on April 19 with Barca holding a 2-0 advantage heading into the second leg of their semi-final on Wednesday.
Madrid coach Carlo Ancelotti insisted that Ronaldo was fine after being struck and lauded his side's feat of reaching the final on the back of eight consecutive clean sheets in the Cup this season.
"Cristiano is fine, he scored two goals and he doesn't have any problems," he said.
"We are still alive in all competitions and whilst this is the least important of the three in comparison to La Liga or the Champions League, to get to a final is always a good thing for the team.
"We have played well in all the Cup games. We have kept a clean sheets throughout and this speaks well of the mentality of the team."