Dozens of people, mostly Christians, in Izaghe village in rural Borno state, northeast Nigeria, have been massacred by gunmen suspected to be members of Boko Haram, an official and local residents said Sunday.
"They killed many, many people in the attack late Saturday. From the latest information I have gathered, more than 60 people have been killed," the local government chairman, Maina Ularamu, told AFP.
Ularamu, who spoke to AFP from the Nigerian capital Abuja, said the toll which he had gathered from residents of Izaghe village in the troubled Borno state still had to be verified.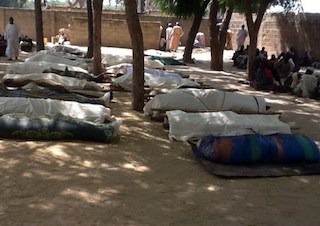 The residents of the village — populated by mostly Christians — had fled the scene of the carnage.
"We suspect that the gunmen were members of Boko Haram. They have taken over the village," Ularamu said.
"They looted businesses and food stores and loaded all their spoils into vehicles owned by residents and fled into the bush."
The attack made hundreds of villagers homeless, he said, adding that he was about to return to the state capital Maiduguri to face the security and humanitarian challenges created by the raid.
A survivor of the attack, Barnabas Idi, a farmer, who said he scaled the fence of his house and crawled for about 40 minutes to safety, narrated to AFP his account of the raid.
"The attackers came around 9:30 pm (2030 GMT) in six trucks and some motorcycles. They were dressed in military uniform. They asked men to assemble at a place, hacking and slaughtering them," he said.
Some of them went door-to-door looking for those in hiding in their houses.
He said that he scaled over the fence of his house and "crawled on my belly for 40 minutes until I was able to run to safety".
Izghe is about 140 kilometres (87 miles) from Maiduguri and Idi said that security agents were not present during the attack.
Another resident who also survived the attack gave a similiar account of the raid.
A military spokesman in the area, Lieutenant Colonel Mohammed Dole, told AFP he had not been briefed on the attack.
Boko Haram militants early last week killed 43 people in the villages of Konduga and Wajirko, also in Borno state, in attacks that triggered the exodus of hundreds of villagers to Maiduguri.
Borno and the neighbouring states of Adamawa and Yobe have been under emergency rule since May last year in a bid to stop the Islamist rebellion, which has claimed thousands of lives since 2009.
Attacks have continued in remote areas as well as in cities despite a military operation launched in the northeast when emergency rule was declared.
President Goodluck Jonathan, who has voiced frustration with the progress of the operation, replaced his top military brass on January 16