The man who hijacked an Ethiopian Airlines flight en route from Addis Ababa to Rome on Monday was the co-pilot, according to the Geneva airport where the plane was forced to land.
The co-pilot said he had seized his chance when the pilot went to the bathroom, Bertrand Staempfli, the airport spokesman, told reporters.
Police spokesman Pierre Grangean told a news conference that the co-pilot locked the cockpit door when the pilot went to the toilet. He then asked to refuel at Geneva, landed the plane, climbed down from the cockpit window on a rope, and gave himself up to police.
He was unarmed and there was no risk at any time to crew or passengers, Grangean said. The co-pilot is being questioned by police.
"He said he felt threatened in his country and wants to seek asylum in Switzerland," he said.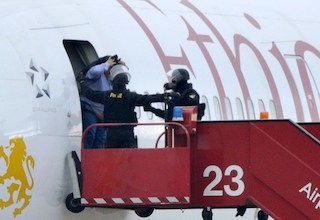 The man was born in 1983 and an Ethiopian citizen, according to Staempfli, the airport spokesman.
"At 6:02 am, the plane landed safely," he said, adding that the co-pilot left the plane by scaling down a rope he had thrown out of the cockpit window.
"He didn't have a weapon with him," he said, adding that the hijacker would go before a judge Monday.
Technically, he can be charged with "hostage-taking," and could face up to 20 years in prison, Staempfli said.