Ayorinde Oluokun/Abuja
President Goodluck Jonathan says he hopes to be in Brazil to support the Super Eagles.
The President said this after he was decorated as Grand Patron of Nigeria Supporters Club Worldwide by the Dr. Rafiu Ladipo-led Nigeria Football Supporters Club.
The President was decorated with the Supporters' Club regalia, medallions, staff of office and given a giant trophy at the event. He was decorated by Ladipo, the Minister of Sports, Bolaji Abdullahi and other top shots of the Sports Ministry.
The President said the decoration officially confirmed him as number one supporter of Nigeria's sporting teams.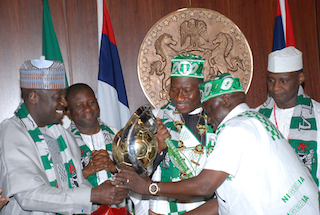 "This confers on me the responsibility to lead our teams. I hope to be with you in Brazil," said the President.
He praised the patriotism which the Supporters' Club have displayed over the years in cheering national football teams to victory. He also noted the various awards the club had won as the best behaved national supporters' club.
He said that with the impending world cup and commonwealth games, 2014 will be a busy year for Nigeria in terms of sports.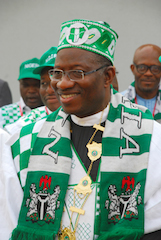 The President announced a donation of N50 million to the club to aid the supporters trip to Brazil.
"We need to encourage you to go to Brazil. The FG will give you N50 million, but I am sure by the time we consult some of our senior boys, the money may double," said Jonathan.
He therefore called on all Nigerians to take up the task of supporting Nigerian teams.
The President General of Nigeria Football Supporters Worldwide, Dr Ladipo said the decoration of the President was in recognition of the various achievements that have been recorded in football under his administration.
He also revealed that the Club will storm Brazil with 1000 supporters, made up of 500 from Nigeria and 500 from other parts of the world. Ladipo added that with the President's support, Super Eagles may get to the semi final of the world cup in Brazil.
Speaking to journalists later, Ladipo said though Stephen Keshi needs some assistance to succeed in World Cup, he should be allowed to choose his technical assistants.