Suspected Boko Haram gunmen on Sunday returned to a village in northeast Nigeria where 106 people were killed last week, torching homes, shooting and setting off explosives, a local official said.
The latest attack in Izghe, Borno state, happened at about 1:00 am (0000 GMT) and forced residents who had returned to the village after the Ferbuary 15 deadly strike to flee again.
Maina Ularamu, the chairman of the Madagali local government area in neighbouring Adamawa state, told AFP that "nothing remains but burnt ruins".
Izghe is in Gwoza district of Borno but its residents have closer ties with Madagali due to its proximity and ethnic allegiances.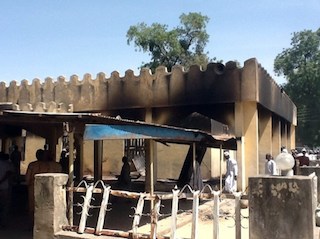 There was no immediate comment from the Borno state police or the military when contacted by AFP.
Ularamu said one person was injured in the attack. Elderly residents who had stayed in the village had now also left, he added.
"The elderly who remained in the town, vowing not to leave their roots, had no option but to move to Madagali because the whole town has been burnt and everything looted," he said.
Some 10,000 residents from Izghe and neighbouring villages fled to Madagali in the wake of last week's attack, heaping pressure on neighbouring towns and cities.
"We are facing a humanitarian situation in Madagali because the displaced persons are in dire need of basic supplies which we don't have the capacity to meet," said Ularamu.
The February 15 raid in the mostly Christian village saw suspected Boko Haram fighters, who arrived in trucks and wearing military uniform, go door-to-door looking for those hiding in their houses.
The attack — and others in the northeast blamed on the Islamist group over the last week — sparked condemnation from the United States and United Nations, among others.
The governor of Borno even claimed the militants were better equipped than the military, prompting strong denials from the government.
Boko Haram has been waging a deadly insurgency in northern Nigeria since 2009. The banned group, deemed an international terrorist organisation by Washington, wants to create an Islamic state.