Nigeria's Borno state has ordered all its schools shut to protect children after Boko Haram terrorists killed dozens of pupils in an attack last month, an official from the state Education Ministry and several parents.
No fewer than 59 students were killed in an attack on a government school in Buni Ladi,in neighboring Yobe state. However, Borno has by far been the worst affected by the insurgency since it began four and a half years ago.
"All public and private schools have been directed by the state ministry of education to end their second-term academic calendar latest this week," said a senior official in the ministry who declined to be named.
"We don't want to make the announcement public so as not to create panic … but it was a directive that came from the governor to the ministry."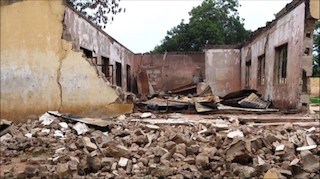 Schools finished one term early last year after 22 students were killed in the village of Mamudo in Yobe state. The interruption of school teaching is likely to deepen the sense of isolation of the northeast, already a laggard in economic development because of a lack of investment in social services.
Boko Haram, the militant group's widely used nickname, means "Western education is forbidden". Security sources say it has killed hundreds, possibly thousands, this year in a campaign of violence that is more intense than ever.
The gate of the state-owned Government Girls' College, a boarding school in the center of the state capital, Maiduguri, was locked on Friday.
Sadiq Abubakar, whose children attend the Nurulhuda Integrated School in the city, said term had been ended three weeks early: "The proprietor … said the school calendar was adjusted because of the security situation."
The failure of the military to protect civilians is fuelling anger in the northeast, although state security officials have claimed some recent successes, including killing several militants as they tried to escape from a prison in Maiduguri this month.
Overall, an offensive ordered by President Goodluck Jonathan last May has, if anything, worsened the violence by triggering reprisals against civilians.
The insurgents mostly have their bases in the remote, hilly Gwoza area of Borno state bordering Cameroon.
Reuters