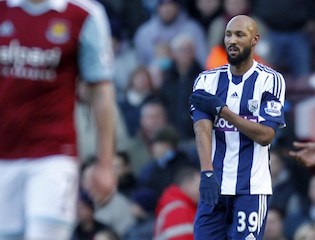 French striker Nicolas Anelka has rubbished claims he was in line to join Brazilian club Atletico Mineiro.
Atletico claimed on Tuesday they had scrapped plans to sign Anelka after running out of patience waiting for him to make contact with the club.
The club's statement came after Mineiro chairman Alexandre Kalil said on 5 April via Twitter that Anelka would be signing.
But the 35-year old striker uploaded a video to his Twitter and Facebook pages showing him talking on 8 April about his future, which he said would not be in Brazil.
"I'm obliged to make a video today (April 8) because I've seen what's happening with regard to the news about me," he said.
"And as I know you, the press, by heart, you're going to try to make me out to be the bad guy at the end of this story. So it's Tuesday, I'm supposedly expected in Brazil on Thursday (April 10), I've supposedly reached an agreement with a Brazilian club and I've supposedly signed with them.
"This is an amazing story and in any case I'm not aware of it. It's true that I received an offer from this club (Mineiro) through an agent but I've never spoken to this president (Kalil), I've never spoken to anyone at the club and I've never accepted their offer.
"So I don't know how I could have already signed a contract, it's incredible. I've been in football for 20 years and this has never happened to me before. But obviously it had to happen at some point, to me of course.
"Its not true, it's false. I recently said I'd stay at home, have a holiday and look after my children. That's what I've been doing.
"I already know where I want to go if I do decide to continue (playing) and in any case, it's not in Brazil."
Anelka's response came a day after Mineiro, current club of veteran Brazil star Ronaldinho, hit out at the former Arsenal, Real Madrid, Paris Saint-Germain and Chelsea veteran.
Director of football Eduardo Maluf claimed the club had been unable to contact Anelka and had ended their interest in signing him. "At no time did we manage to speak to the player," Brazilian media quoted Maluf as saying.
Anelka burst onto the scene with Arsenal as a teenager. He won 69 French caps, scoring 14 goals before being thrown out of the 2010 World Cup following a row with coach Raymond Domenech.
He was handed an 18-match ban, that effectively ended his international career.

Load more