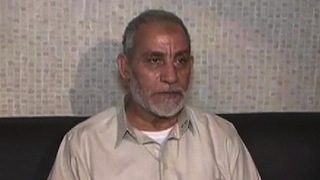 An Egyptian court on Monday sentenced Muslim Brotherhood leader Mohamed Badie and 682 other alleged Islamists to death, a lawyer and prosecutor said.
The same court also reversed 492 death sentences out of 529 it passed in March, commuting most of those to life in prison.
The defendants sentenced on Monday were accused of involvement in the murder and attempted murder of policemen in the southern Minya province on August 14, the day police killed hundreds of ousted Islamist president Mohamed Morsi's supporters in clashes in Cairo.
Several female relatives waiting outside the courtroom fainted on hearing news of the verdict.